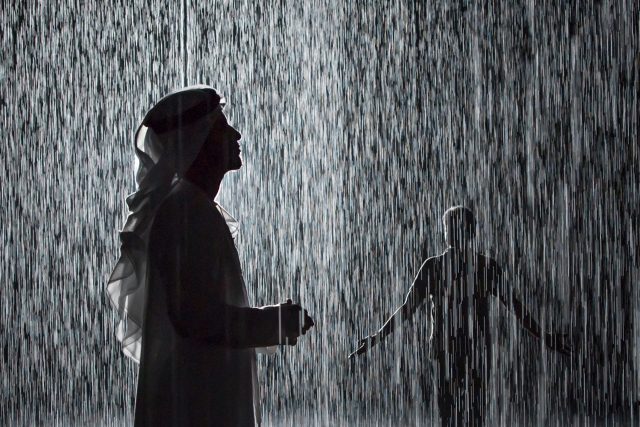 The work I selected is Rain Room by Random International. This work is an interactive installation that allows visitors  to walk through a downpour without getting wet as motion sensors detect visitors' movements as they navigate through the space. Although I've never got the chance to visit this work in-person, I still really enjoy this work. Walking through rain without getting wet seems to gives the visitor a sense of control over rain. The experience of walking in the rain is replicated in an indoor space can encourage some interesting reflection on our relationship with technology and environment.
Video: https://www.youtube.com/watch?v=sktrJ8R0Wzo 
Additional Information: http://www.digiart21.org/art/rain-room 
Rain Room is equipped with 3D motion sensors that track movement underneath the water valves. When it senses a person walking inside the piece, the sensors turn off the water valves for the area around that person. This effectively creates a circle with no rainfall centered on that person, which follows them as they move around the piece.
Based on the artists, "the idea originated in a three-second spark that came up during a discussion where we had looked at a (too) complicated process of printing information with water onto very large hydrochromic surfaces. It seemed that we somehow shared a curiosity to see how it would feel to be immersed in a rainstorm that wouldn't physically affect you. So, we just knew, we had to do this. " It then took four years of research and development and support from Stuart and Maxine Frankel and their Art Foundation to develop and build the first Rain Room, which was shown at the Barbican in 2012.