For the first video, both of us will make a device, based on animals' attacking or threatening action. We will work on our own designs without telling each other what it is and how it will act in the video. Then,in the second video, we will create another kinetic device (or fabric, or movement ) which responds to the action of the conterpart in the first video, based on animals' defence action .
Action 1: Attacking / Threatening
Lucian's Inspiration Photo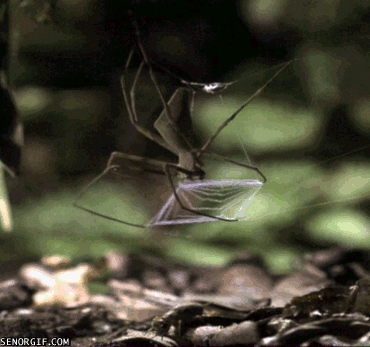 Test video of the attacking pose that I made. Was modified to appear more threatening and less of an active attack. Will be re-shot outside in the grass at a later date.
Action 2: Defending/Hiding
Lucian's Inspiration Photos
Zhang Yu's Inspiration Photos
In the end the project came out mostly as we'd hoped. It would have been nice to create a better "camouflage" for example dyeing the net green or adding more foliage of a wider variety. However with the limited materials and tools this result was satisfactory. The final piece conveys the concept of evolution due to conflict while showing different applications of fabric.