Animal Building Blocks
Concept
Slotted building blocks with animal faces and legs are connected to construct animals as well as mix and match various animals. Animal Building Blocks employ slots to connect together in a variety of ways allowing for infinite building possibilities.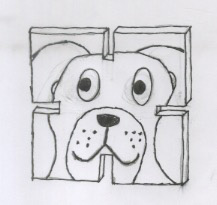 Interaction
Kids will be able to slot together the building blocks to create animals, mix-matched animals, as well as an assortment of other structures. The square design allows for simple symmetry when building, and the four slots enable three dimensional construction out of almost two dimensional  building blocks. This toy develops motor skills and spacial reasoning as kids use them to construct their own toy. The building blocks foster creativity while the animal faces present a useful suggestion when building.

Manufacturing
Animal Building Blocks could be made out of either wood or plastic. Either material could be rapidly cut to shape and engraved with animal pictures using a laser cutter. It would be simple and inexpensive to create. New pieces could continually be created and added to the set. The building blocks pose no real hazards as there are no moving parts, and each piece is large enough that it could not be swallowed by a child.