Intro:
Our world is becoming increasingly digital – in the past year, the metaverse and NFTs have become a household buzzword, causing a massive "gold rush" into developing bleeding-edge innovation surrounding immersive experiences.
Augmented Reality (AR) focuses on blending the physical and digital worlds together in cohesive experiences. AR overlays digital elements on top of the real-world, which "keeps the real world central but enhances it with other digital details, layering new strata of perception, and supplementing your reality or environment". Perhaps the most well known example of this is Pokémon GO. Virtual Reality (a fully immersive digital experience that features computer-generated imagery and sounds that requires a head-mounted display, headset and haptic controllers) and Mixed Reality (experiences where users can interact with both physical and digital items and environments at the same time), concepts that are highly associated with AR, are often looped into the same conversation.
Having said that, the majority of the fashion products and experiences currently available on the market primarily utilize AR; this article will mainly be focusing on how more established, traditional brands are embracing this immersive technology in comparison to those born in the Web3 era.

Traditional Fashion Labels:
Perhaps one of traditional fashion labels doing the most with AR is Louis Vuitton. In the past couple of years, they have launched a variety of AR products, collaborating with the likes of Dr. Helen Papagiannis, one of the most influential figures in the AR is. In addition to having worked with the technology and industry leaders in the space for over a decade, she has explored NFTs, had her work displayed in Time Square, and collaborated with some of the largest luxury fashion labels today. In October of 2021, her work was featured as 1 of 200 visionaries in Louis Vuitton store windows globally, where she had the opportunity to reimagine LV's iconic trunk as "an abundant future garden blooming with possibilities and pulsing with life" through a mixed reality experience. The trunks (both physical and digital) will be on auction at Sotheby's in 2022.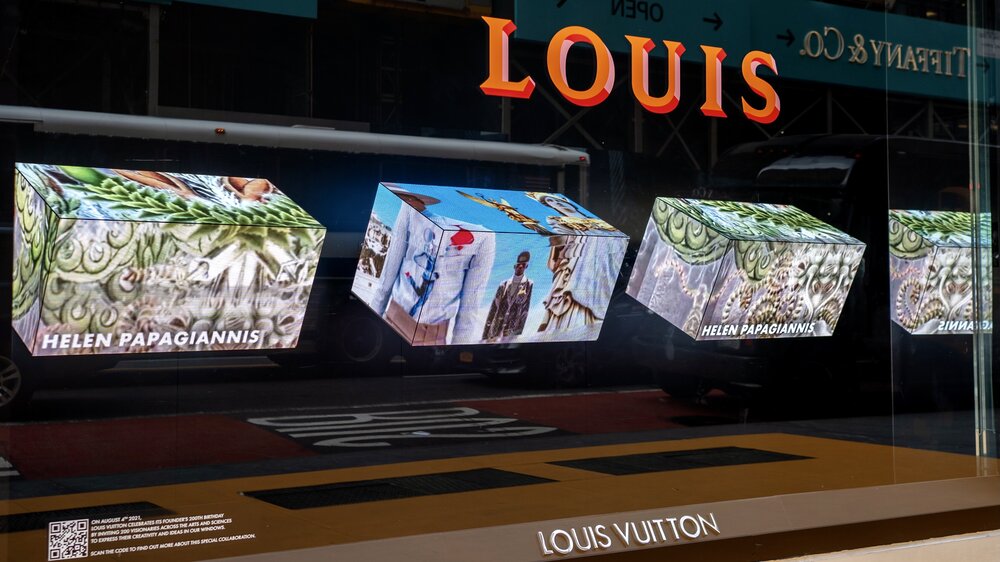 Louis Vuitton has also explored other digital projects and avenues. Other projects have included a Travel Book collection that acts as an invasion to real and virtual voyages. In an edition published in 2019, the book pages would become animated with sound when scanned with the Google Lens mobile app. Additionally, in a 2019 collaboration with League of Legends, Louis Vuitton released AR Instagram filters that would allow users to try on co-branded accessories.
In more recent news, during this year's New York Fashion week, label Maisie Wilen presented their latest collection with 7-foot-tall holographic models. The virtual models were lined up and "performed" repetitive loops and featured retro futuristic clothes, created by 106 cameras around the models capturing 360 imaging in super sharp 6K resolution to create a "living GIF lookbook". Schloss, the designer behind the collection, explained that by utilizing digital presentations and taking a hybrid approach, she would be able to access home viewers as well as in-person attendees. Additionally, the collection is available through their shoppable site, which also features AR versions of the models that allows fans of the brand to play with the digital assets in their own environments.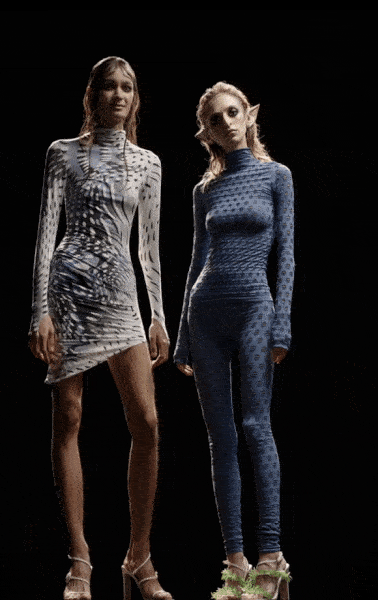 Burberry also released an A.R. app in 2021 that would allow users to customize sculptures of Burberry's pocket bags using their designer patterns, prints, and shapes from the "In Bloom" spring/summer 2021 collection and place them virtually within their home. This was in continuation with their previous efforts of launching an AR shopping tool through Google Search technology, that would allow consumers to see an AR version of the product at scale within the context of their own environments. Additionally, Burberry also launched an exclusive AR experience activated through QR codes that was available in their flagship store opening in Ginza, Tokyo as well as a digital pop-experience powered by Google Lens.
Similarly, even retailers such as Farfetch and Goat, platforms that sell products from a variety of boutiques and brands are partnering with AR technology companies to produce their own versions of virtual try-on technology. Both have launched AR experiences within their respective apps to let users try on a range of sneakers from brands such as Gucci, Versace and Off White.
Unlike some of its competitors, Chanel's immersive technology experience focuses on make-up, rather than fashion elements. Their product utilizes a Lipscanner, which uses AI to take any image and match it to a lip color from the brands selection of over 400 products. The patented technology incorporates "intensive algorithm training" and can identify exact shades and textures from images to render AR products onto the customers' faces.
According to Erin Schmidt from Coresigh Research, "Virtual try-ons drove over twice the engagement, as well as higher conversion and retention rates, doubling the number of sessions from the previous quarter in its second quarter earnings report of 2021, dated 5 Feb., 2021". In addition to all of the hype and attention related to Web3 and NFTs, with these discovered KPIs, it is no surprise that traditional brands have been implementing this technology within their branding and marketing experiences.

Web3 Fashion Labels:
In addition to the slew of established luxury brands exploring immersive technology, there have also been a number of newly formed companies born in the Web3 space that fully embrace it and rely on this technology for their core products.

AUROBOROS, a London based brand, is a fashion label focused on creating digital couture. Consumers can buy digital garments from their website by sending them a clear photo in good lighting. Their team then applies the garment onto the customer's photos by customizing their "made-to-measure" digital clothes precisely to their client's body shape. In 2021, the brand debuted their inaugural 'Biomimicry' collection at London Fashion Week's DiscoveryLAB; consumers could scan a QR code featured on posters and billboards around London that unlocked an AR try-on experience on Snapchat.
As of now, digital clothing marketplace DressX embraces similar concepts and ideas as AUROBOROS to allow consumers to buy their garments on their website. The difference however, is that DressX focused on selling clothing from a variety of designers and brands at varying price points. The brand raised a seed round of $2 million, and has been developing an app that focuses on creating digital try-on experiences with AR, to ultimately replace the current buying experience. Co-founder Natalia Modenova explained that their clothing is "ultimately designed to be compatible across different universes online" including Zoom.
RTFKT studios is another brand that has explored AR technology, primarily through digital streetwear and sneakers. As part of their marketing, the brand creates viral content on social media that features their real-time AR try-on, enabled by recent hardware and software companies from Snapchat and Apple. By capitalizing on the hype from social media, the brand has been able to sell NFTs of their digital goods for as much as $15,000 USD. (Refer to Elon Musk wearing the "CYBERSNEAKER"). Their website also features 3 Snapchat filters than anyone can try by scanning a QR code, featuring try-on shoes, a massive meta pigeon that can appear in any environment, and their puffer meta jacket. The brand has since shifted their focus more to CloneX, an NFT profile picture project. Shortly after, it was announced that Nike acquired RTFKT as a step towards embracing the metaverse and the ever growing digital creative community.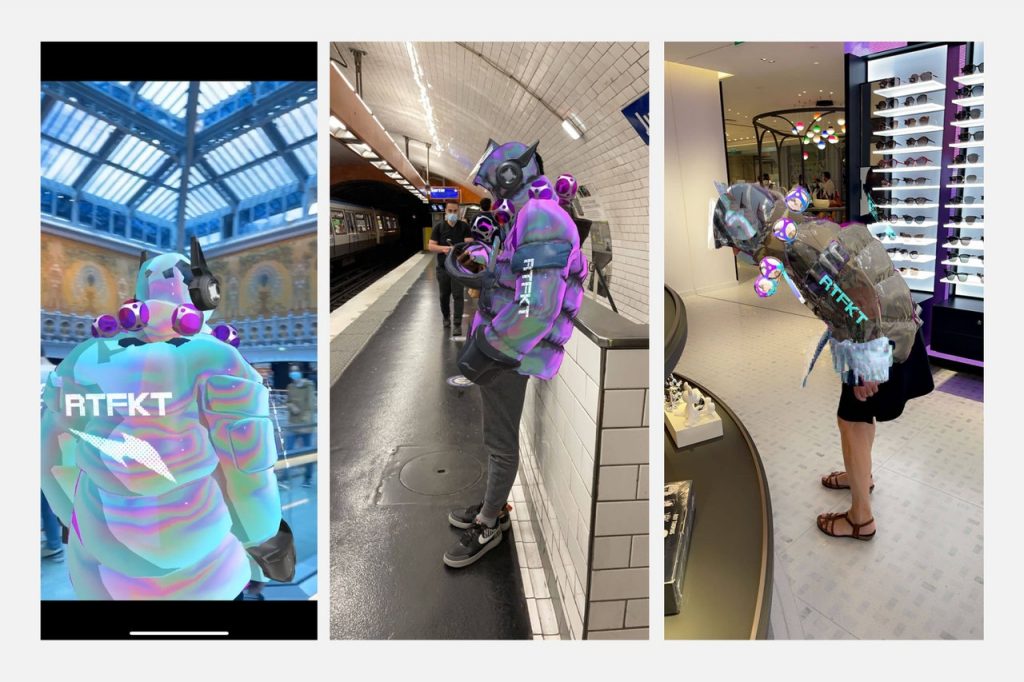 Conclusion:
After exploring a variety of traditional fashion houses and newer Web3 brands, it is clear that companies value AR experiences and are focused on continuing to develop these technologies. Having said that, immersive experiences are still at its infancy. The majority of the experiences related to the space have been AR try-ons, and almost none of them incorporate VR and MR in substantial ways. In efforts to speed up development, Meta hosted their first Luxury Innovation Summit in 2021 and brought together 50 top luxury executives to discuss the potential of virtual and augmented reality for their brands. In addition to showcasing examples of how VR can enable potential clients to engage with the brand in new ways, Meta is also investing in tools to help brands have higher conversion rates.
As more interest, hype and money continues to move into the metaverse and Web3, so will the technology related to immersive experiences. We are just getting started.
Resources:
Artnet News. "Burberry Just Released an A.R. App That Lets You Design Your Very Own Virtual Sculptures Featuring the Brand's Iconic Imagery." Artnet News, Artnet News, 7 June 2021, https://news.artnet.com/style/burberry-ar-app-1977138.

"Auroboros Presents Biomimicry Digital Collection at London Fashion Week In Partnership with IODF." YouTube, Auroboros , 12 June 2021, https://www.youtube.com/watch?v=ldOUbyCxIRI.

Chitrakorn, Kati. "An Augmented Reality Shopping Boutique Is Here." Vogue Business, 19 Feb. 2021, https://www.voguebusiness.com/consumers/augmented-reality-store-machine-a-institute-of-fashion-design.

Facebook, Vogue Business for. "The Augmented and Virtual Reality Opportunity for Luxury." Vogue Business, Facebook, 16 June 2021, https://www.voguebusiness.com/technology/the-augmented-and-virtual-reality-opportunity-for-luxury.

Ferere, Cassell. "Snap Inc.. and Complexcon Are Using Augmented Reality to Allow Attendees and Fans at Home to Shop." Forbes, Forbes Magazine, 5 Nov. 2021, https://www.forbes.com/sites/cassellferere/2021/11/05/snap-inc-and-complexcon-are-using-augmented-reality-to-allow-attendees-and-fans-at-home-to-shop/.

Jasman, Asri. "Try on off-White Sneakers Virtually with the Farfetch App." Esquire SG, 14 Aug. 2020, https://www.esquiresg.com/farfetch-virtual-try-on-off-white-sneakers-wannaby-ar-technology/.

McDowell, Maghan. "Why Ar Clothing Try-on Is Nearly Here." Vogue Business, 26 July 2021, https://www.voguebusiness.com/technology/why-ar-clothing-try-on-is-nearly-here.

"Nike, Inc.. Acquires RTFKT." Nike News, 13 Dec. 2021, https://news.nike.com/news/nike-acquires-rtfkt.

Nowill, Rob. "Is It Time to Invest in Virtual Fashion?" HYPEBEAST, HYPEBEAST, 25 Jan. 2021, https://hypebeast.com/2021/1/virtual-ar-fashion-tribute-rtfkt-aglet.

​​Onufrowicz, Martin. "AUROBOROS Is the Tech Fashion House Creating Celestial Cyber Couture." Dazed, 12 Feb. 2021, https://www.dazeddigital.com/fashion/article/51913/1/auroboros-celestial-couture-alexander-mcqueen-vr-technology-digital-fashion.

Palumbo, Jacqui. "Digital Dress Codes: What Will We Wear in the Metaverse?" CNN, Cable News Network, 15 Dec. 2021, https://www.cnn.com/style/article/metaverse-digital-fashion/index.html.

Palumbo, Jacqui. "New York Fashion Week Show Staged with 7-Foot-Tall Holographic Models." CNN, Cable News Network, 15 Feb. 2022, https://www.cnn.com/style/article/maisie-wilen-fall-2022-nyfw-holograms/index.html.

Papagiannis, Helen. "XR Goes Pop." XR Goes Pop, 6 Feb. 2022, https://xrgoespop.com/.

Scott, Nateisha. "Chanel's New Lipscanner Technology Is Proof That Virtual Reality Beauty Testing Is Here to Stay." Yahoo!, Yahoo!, 22 Feb. 2021, https://uk.style.yahoo.com/chanels-lipscanner-technology-proof-virtual-101436907.html.