Quality education is the root of success all around the world. The COVID-19 Pandemic has forced communities to re-evaluate how they live their everyday lives. Public schools, Higher Education institutions, and nonprofit arts organizations have turned to each other to help solve new problems. We have become a digital world. But are we providing the communities we say we serve with the resources they need in this new world?
My Experience Working in Education
In the Fall of 2019, I was amid completing my certification in Music Education. I was a student teacher at Allegheny Traditional Academy in the Pittsburgh Public Schools and at Mellon Middle School in the Mt. Lebanon School District. At Allegheny Traditional Academy, I gained experience working as a K-5 general music teacher. At Mellon Middle School, I gained experience working as a middle school orchestra teacher.
Both experiences provided me with valuable skills that I would take into my professional career as an arts manager. Each district had a lot more in common than one would think such as loving and caring personnel staff, incredibly supportive parent teacher associations, and missions dedicated to helping every single student under their care achieve greatness. However, each district had a variety of differences that set each apart from one another such as access to funding, access to necessary resources and materials, and access to quality educational facilities. The most eye-opening part was that both districts serve students in one county: Allegheny County.
Access: What does it mean?
By definition, access is the "freedom or ability to obtain or make use of something." According to The Glossary of Education Reform, access refers to "the ways in which educational institutions and policies ensure—or at least strive to ensure—that students have equal and equitable opportunities to take full advantage of their education."
Throughout the COVID-19 pandemic, public schools were severely affected by their access to quality resources and technology. Schools were forced to adapt to a digital world but were limited to the resources they already had in schools to continue providing great education to their students. These resources included access to great WiFi and portable technology such as iPads and laptops. Even with these resources available at school, students did not have the same resources available at home.
Over the course of 2 years, students suddenly needed reliable WiFi at home, quality electronic devices, and quiet spaces to be able to do their work. However, not all families are created equal.
The Digital Divide in Education
Arts educators in the public-school districts had to quickly adapt to teaching their art forms over a screen. Visual artists, music teachers, and choral instructors had to reimagine their lesson plans and move from teaching incredibly physical and intimate art forms in person to teaching how to discover the same feelings and passions over a screen. Students began to learn how to paint, draw, learn new instruments, and sing over an Internet connection. Providing quality artistic instruction became quite difficult because suddenly WiFi became the one piece of technology that everyone immediately needed access to.
The digital divide in education is "the gap between those with sufficient knowledge of and access to technology and those without." According to Thomas McElroy, "although 87% of US households have access to a computer, smartphone, tablet or another internet-enabled device, only 73% of households have access to the internet." This means that students did not have the means to complete their daily schoolwork and homework when schools began offering remote-only education. Elroy further describes that "the disparities in access to technology and the internet are far more pronounced for many minority groups, low-income/ homeless individuals, English language learners, and individuals with disabilities."
The disparities became even more apparent when access to reliable internet and WiFi was required for daily tasks such as scheduling COVID-19 tests and vaccines, ordering medical prescriptions, health appointments, or attending virtual school. Families were also required to have reliable internet access to access governmental assistance programs such as P-EBT, Emergency Rental Assistance, and Emergency Broadband Benefit Program. Unfortunately, families from low-income backgrounds and the demographics with the least access to reliable technology were the ones who needed and continue to need the most help.
WiFi, Broadband, and Bandwidth
WiFi is "the wireless technology used to connect computers, tablets, smartphones and other devices to the internet." For WiFi to work, a radio signal is sent from a wireless router to a nearby device that translates the signal into data that the user can see and use. The nearby device then transmits a radio signal back to the wireless router that connects to the internet by wire or cable. Wi-Fi networks are simply internet connections that are shared with multiple devices in home, businesses, school districts, and more.
There are many ways for students and home users to connect to WiFi. Some of these methods include using a wireless router to access the internet, mobile hotspots, and 4G LTE or 5G Home Internet. Mobile hotspots are a great way for community members such as students and educators in the public-school districts to access internet at coffee shops and public libraries outside of school hours. However, mobile hotspots only serve as temporary solutions to the lack of WiFi and Internet access in Allegheny County. Using mobile hotspots in the community tend to drain one's battery life and data rather quickly.
Broadband is "the transmission of wide bandwidth data over a high-speed internet connection." According to the FCC, high-speed broadband is defined as "download speeds of up to 25 megabits per second and upload speeds of up to 3 megabits per second (25/3 Mbps)." These speeds have been unchanged for six years and are not nearly enough to ensure that all households have high-speed broadband. Zoom has recommended 3.8Mbps upload speeds for just one 1080p video which at the current high-speed broadband coverage, is not enough to cover one single household connection. Considering that many low-income households in the public-school districts have several children under one roof who need more than one connection at a time, the current broadband speeds do not allow for multiple simultaneous streams.
In March 2021, Senators Joe Manchin, Rob Portman, Michael Bennet, and Angus King called on the Federal Communications Commission to "change its definition of high-speed broadband in order to significantly increase base speeds." They argued that the current broadband speeds defined by the FCC, no longer serve all communities in need especially when many American households are working and attending school remotely. The four senators proposed that "there should be a new standard of 100 Mbps for both download and upload speeds, and that this should be a consistent definition across the federal government." The higher speeds would allow more households access to high-speed broadband, remote schooling, and more.
Oftentimes, bandwidth gets mistaken for internet speed. Bandwidth is "the maximum amount of data transmitted over an internet connection in a given amount of time." It is the volume of information that can be send over a connection calculated in megabits per second (Mbps). Internet speed is how fast information is received or delivered. Latency is "the amount of delay on a network or internet connection." For remote schooling and activities to work efficiently, educators want their students and themselves to experience low latency for little to no delays.
Major Wireless Providers: Verizon, T-Mobile, and Cricket Wireless
The maps below are coverage maps from three different wireless providers: Verizon, T-Mobile, and Cricket Wireless. There are two Verizon maps showing two different perspectives. The first map covers areas from Downtown Pittsburgh to Wilkinsburg whereas the second map covers the Mt. Lebanon School District area. These maps show the inequities of wireless coverage in Allegheny County.
Verizon
Based on the Verizon color key, we can see that the majority of neighborhoods between the Allegheny River and Monongahela River receive 4G LTE coverage. This includes neighborhoods that primarily enroll students in the Pittsburgh Public Schools. It is unsurprising to see that the Downtown Pittsburgh is among one of the areas to receive poor WiFI coverage considering there are five high schools in this area. The high schools serve students from predominantly low-income backgrounds including Black and Hispanic communities. It is surprising that Verizon is one of the most expensive global wireless providers and poor coverage is offered in the areas between the two rivers. The basic home internet Verizon plan is $39.99 per month at 300 Mbps.
When comparing the first map to the second map, most of the Mt. Lebanon School District receives 5G Ultra Wideband—Verizon's most expensive offering. To get the basic version of 5G Home Internet, customers must pay $50/month with Auto Pay or enroll in a 5G mobile plan that offers the same home plan for $25/ month with Auto Pay. In the long run, the cheaper monthly option is more expensive because the customer has to purchase a phone plan that may be just as costly than only purchasing WiFi. However, regardless of these monthly prices, Verizon offers 5G Ultra Wideband in Mt. Lebanon and does not offer the same plans to residents, schools, and organizations in Pittsburgh.
T-Mobile
The following two maps show the same two areas previously showcased with the Verizon Maps: Pittsburgh Public School District and the Mt. Lebanon School District.
Both maps show that T-Mobile offers their best WiFi coverage—5G Ultra Capacity—in Pittsburgh and Mt. Lebanon. They offer one plan at the rate of $50/ month with AutoPay. According to T-Mobile, "5G Home Internet customers will see typical download speeds between 35-115 Mbps. Speeds can vary depending on location, signal strength and availability, time of day, and other factors." They also do not offer tiered pricing based on speeds, meaning that customers may only purchase the $50/ month plan if they want to use T-mobile Home Internet.
In the long run, T-Mobile is a great option for families who need affordable WiFi coverage. However, the downside to a more affordable plan is that families may not always have access to their own internet depending on the previously mentioned factors. This is one of the reasons why so many families have faced obstacles during the pandemic because they do not have reliable access despite paying for what is marketed as reliable services.
Cricket Wireless
Cricket Wireless is an American wireless provider, owned by AT&T. They offer services to all 50 states including 37 other countries.
The map below shows that Cricket offers 5G Coverage to the Mt. Lebanon and Pittsburgh area. It is important to note that Cricket only offers phone plans and not Home Internet/ WiFi coverage. However, they offer plans that include a fixed amount of Mobile Hotspot data. Cricket Wireless is an affordable option for families who only have phones, iPads, and other smaller devices. The company offers several plans based on how many lines are needed in the household. The more lines purchased in a household the less expensive the phone plans will be per month. For example, a 5-line plan with Unlimited data and 15 GB Mobile Hotspot is $32 per line/ month. A 1-line plan with the same terms is $60/ month.
According to Cricket's Mobile Broadband Information, "temporary network congestion may occur when a large number of customers in a concentrated area access the network at the same time or when some customers consume a very large amount of network capacity during busy periods, such as at stadium events, during peak-usage times…Cricket therefore does not guarantee that subscribers will be able to upload or download data at any particular speed."
Based on this information, it is great that Cricket offers affordable data plans. However, the consumer does not benefit in the long run, especially if they live in the Pittsburgh area or attend the Pittsburgh Public Schools that have significantly more families with several children in one household than the Mt. Lebanon School District.
Implementing More Technology Access in Pittsburgh
In May 2020, Every1online, was formed by members from Carnegie Mellon University, the University of Pittsburgh, two school districts, and Meta Mesh. Meta Mesh Wireless Communities is a mission-driven nonprofit Wireless Internet Service Provider. Originally, this program was formed as a pilot program that would provide 450 families in Homewood, New Kensington, and Coraopolis with free connectivity (50/25 Mbps) for a year. Every1online's goal is "to end Southwest Pennsylvania's digital divide by providing Internet directly to the people who need it most."
How is coverage implemented?
According to Meta Mesh's website, the main Internet connection is transmitted from the top of the Cathedral of Learning. High-powered, long-distance radios then connect to towers in each of the target neighborhoods. The signal is then re-transmitted and received by a small radio installed outside of each participant's home. The receiver connects to a WiFi router in the participants home which creates a "fast, secure, and private WiFi network." Meta Mesh goes above and beyond to provide the receiver, router, and ethernet cable at no cost to the participant.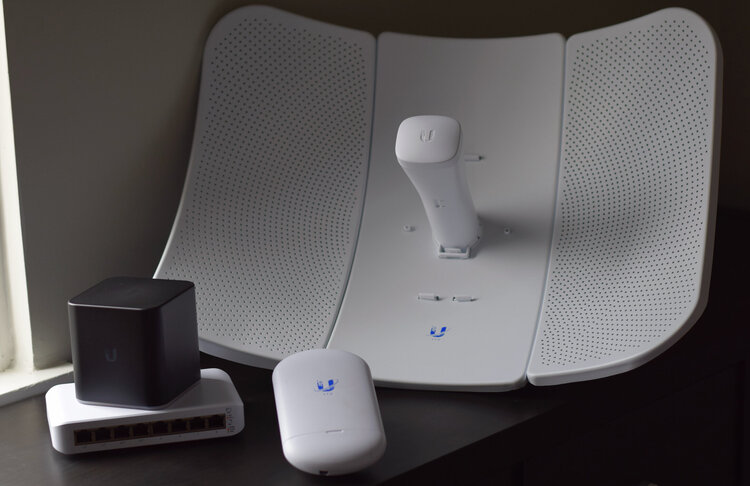 By their proposed speeds of 50/25 Mbps, Meta Mesh explains that everyone in a household should be able to participate in virtual meetings and remote schooling simultaneously.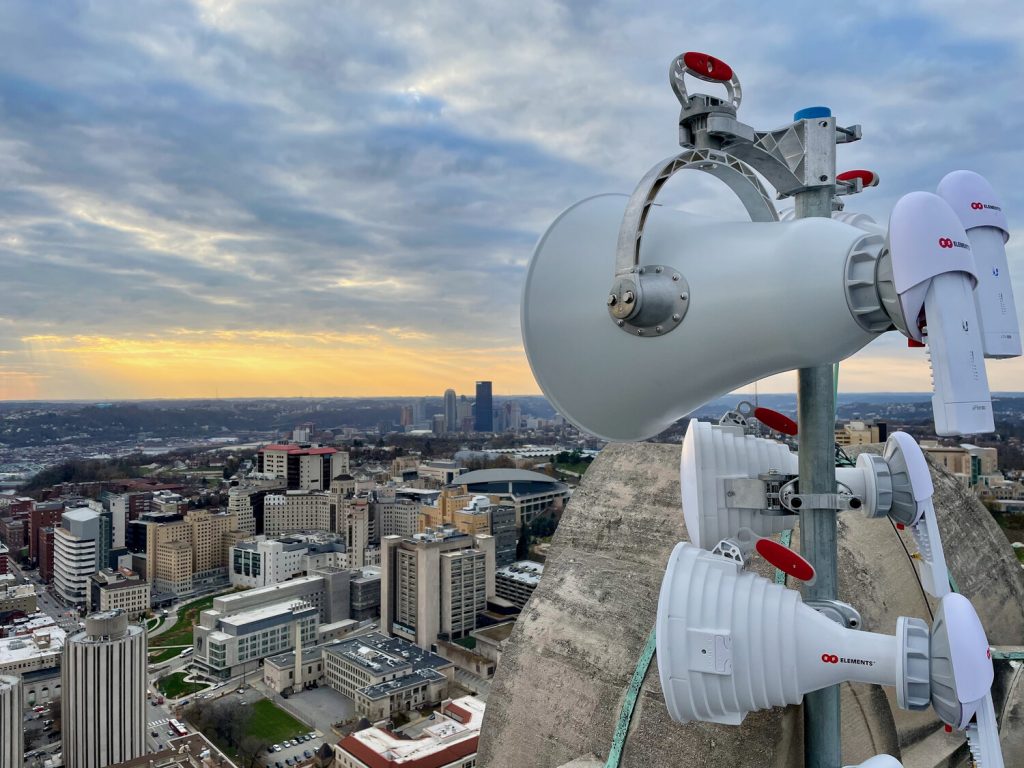 For Every1online to work, Meta Mesh relies heavily on its partners. They implemented a "sponsorship model, where local stakeholders, such as school districts, service agencies, local governments, and business can cover the cost of Internet services on behalf of their community members who need it." With this model stakeholders, who choose to sponsor, can deliver their own online services. Families, organizations, and public schools will benefit from communities having a reliable wireless network in return.
Conclusion
We are living in a digital world and must come together as a community to ensure that families who need our support know where to get reliable services at an affordable cost. Our Pittsburgh Public School students deserve the best resources and access to technology that school districts like Mt. Lebanon receive.
Our educators, including arts educators, deserve to have the resources and access they need to do their job to the best of their ability. Organizations are coming together to help close the digital divide but there is much more that can still be done when it comes to equitable access in education. With equitable access, students can enjoy learning and partaking in activities without having to worry about factors out of their control.
Sources
"About Meta Mesh." Meta Mesh, Meta Mesh, https://www.metamesh.org/about.
"Budget / Office of Budget Development, Management, and Operations." Office of Budget Development, Management, and Operations, Pittsburgh Public Schools, https://www.pghschools.org/Budget.
"Bridge The Divide." Beyond the Laptops, Neighborhood Allies, https://beyondthelaptops.org/.
"5G & 4G LTE Network Coverage Map: Cricket Wireless." Cricket Wireless Shop Page Link, Cricket Wireless, https://www.cricketwireless.com/map.html.
Fitzpatrick, Lisa. "Underserved Populations Have Access to Technology- Why Is No One Investing in Them?" Forbes, Forbes Magazine, 1 Nov. 2019, https://www.forbes.com/sites/lisafitzpatrick/2019/11/01/underserved-populations-have-access-to-technologywhy-is-no-one-investing-in-them/?sh=4f2ed9e37ea6.
Marcattilio-McCracken, Ry. "A Pilot Project in Pittsburgh Solves the Problem of Low-Income Internet Access Programs." Community Networks, Community Networks, 17 Nov. 2020, https://muninetworks.org/content/pilot-project-pittsburgh-solves-problem-low-income-internet-access-programs.
Martinez, Gabriela. "New Federal Infrastructure Funds Would Go Toward Helping PA Communities with Poor Internet Access." 90.5 WESA, 90.5 WESA| Pittsburgh's NPR News Station, 10 Dec. 2021, https://www.wesa.fm/development-transportation/2021-12-10/new-federal-infrastructure-funds-would-go-toward-helping-pa-communities-with-poor-internet-access.
McElroy, Thomas. "Addressing the Digital Divide in Education: Technology and Internet Access for Students in Underserved Communities." Forbes, Forbes Magazine, 3 Dec. 2021, https://www.forbes.com/sites/forbestechcouncil/2021/12/03/addressing-the-digital-divide-in-education-technology-and-internet-access-for-students-in-underserved-communities/?sh=3d0ebfd15cec.
"Mt. Lebanon Named as Best Community for Music Education for 14th Year." Details, 13 Apr. 2022, https://www.mtlsd.org/about-us/district-news/details/~board/district-news/post/mt-lebanon-named-as-best-community-for-music-education-for-14th-year.
"Mobile Broadband Information: Cricket Wireless." Cricket Wireless, Cricket Wireless, https://www.cricketwireless.com/legal-info/mobile-broadband-information.html.
Potter, Chris. "For Pittsburgh Public Schools Redistricting Effort, a Long Road Ends with a Familiar Map." 90.5 WESA, 90.5 WESA| Pittsburgh's NP News Station, 11 Jan. 2022, https://www.wesa.fm/politics-government/2022-01-11/for-pittsburgh-public-schools-redistricting-effort-a-long-road-ends-with-a-familiar-map.
"Public Schools Percent of Low-Income Reports." Department of Education, Pennsylvania Department of Education, https://www.education.pa.gov/DataAndReporting/LoanCanLowIncome/Pages/PublicSchools.aspx.
Rihl, Juliette. "How The Pandemic Is Exacerbating The Digital Divide in Allegheny County." PublicSource, PublicSource, 9 Apr. 2020, https://www.publicsource.org/how-the-pandemic-is-exacerbating-the-digital-divide-in-allegheny-county/.
Rodriguez, Lutie. "Comparing Digital Access with Arts Vibrancy in the U.S." AMT Lab @ CMU, AMT Lab @ CMU, 29 Apr. 2021, https://amt-lab.org/blog/2021/4/comparing-digital-access-with-arts-vibrancy?rq=lutie.
Rodriguez, Lutie. "Arts Vibrancy and Digital Access: Part 2." AMT Lab @ CMU, AMT Lab @ CMU, 26 May 2021, https://amt-lab.org/blog/2021/5/arts-vibrancy-and-digital-access-part-2?rq=rodriguez.
"The Leading Equity Podcast." The Leading Equity Center, The Leading Equity Center, https://www.leadingequitycenter.com/podcast2.
"5G & 4G LTE Coverage Map: Check Your Cell Phone Service: T-Mobile." T-Mobile, T-Mobile, https://www.t-mobile.com/coverage/coverage-map.
"Explore Verizon 5G and 4G LTE Network Coverage in Your Area." Verizon, Verizon, https://www.verizon.com/coverage-map/.
"What Is Every1online?" Meta Mesh, Meta Mesh, https://www.metamesh.org/every1online/about.