Cryptocurrency has the potential to and is already beginning to disrupt philanthropy and the ways that nonprofit organizations collect donations. In previous eras, philanthropic innovation was spurred by "new sources of wealth," as with John D. Rockefeller creating America's first foundation or Bill and Melinda Gates translating his immense success in the tech revolution into global philanthropic influence in areas of "poverty, disease, and equity." Similarly the emergence of a new class of "crypto-elite[s]" has the potential to disrupt traditional methods of philanthropy. Previous to the advent of blockchain and cryptocurrencies like Bitcoin and Ethereum, 501(c)3 organizations were accustomed to receiving donations through a variety of traditional channels, including cash, checks, real estate holdings, grant awards, in-kind goods/services, and investments, all of which carry some sort of tax or financial incentive. Now, as blockchain technology and its myriad applications become more mainstream and our society becomes more crypto-curious, nonprofit organizations have an opportunity to adapt by incorporating cryptocurrency and its various tokens into their fundraising strategies.
The Pineapple Fund
One of the earliest examples of crypto philanthropy is The Pineapple Fund, a 2017 project driven by an anonymous crypto whale (an individual who holds so much cryptocurrency that they have the potential to disrupt its valuation) known as "Pine." At the end of 2017 and as the value of bitcoin skyrocketed to nearly $20,000/coin, this anonymous donor held an application process for nonprofits to make their case to receive significant cryptocurrency donations. Ultimately, The Pineapple Fund transformed 5,104 Bitcoin into approximately $55 million in support of 60 charitable organizations, most of which were U.S.-based nonprofits. These organizational recipients represented a wide spectrum of crypto fluency. Some organizations worried that Bitcoin was "blackmail money" and were apprehensive about taking the necessary steps to receive their gifts. Other organizations called upon people in their networks who were well-versed in crypto and were able to set up their wallets with ease. The organizations also varied in their ability to translate this one gift into greater crypto-philanthropic momentum. Some invested in learning the crypto infrastructure and capitalized on the PR opportunity to leverage further donations, while others floundered to provide a clear pathway for future donors.
This is a notable case study because it is an example of a big player in the crypto world tipping nonprofit organizations toward progress. Without Pine's intervention and generosity, these organizations would have continued in their traditional fundraising activities and may not have ventured into the uncharted crypto waters for many years yet to come. It is also worth noting that, of the 60 charities that received funds from The Pineapple Fund, none appear to be oriented toward arts and culture missions. While the ways that blockchain technology (especially NFTs) is disrupting the art world are well documented, it appears that arts nonprofits may be behind the curve in this philanthropic area.
Crypto Philanthropy: Why Pay Attention?
Crypto philanthropy is not just a fad based on the whims of the mega-wealthy like Pine, but is actually an innovative fundraising pathway that organizations should be working to capitalize on. Julie Couturier for the Dorothy A. Johnson Center for Philanthropy has identified crypto philanthropy as one of the most salient trends or topics for nonprofit organizations to keep an eye on in 2022. According to her research, crypto philanthropy is a growing avenue, citing that "cryptocurrency contributions to donor-advised funds (DAFs) at Fidelity Charitable Trust (2021) more than doubled from $13 million in 2019 to $28 million in 2020," and that "the value of total cryptocurrency donations is now over $300 million annually — and is only expected to grow."
This movement toward crypto philanthropy can be significantly attributed to wider adoption of cryptocurrency investments amongst the philanthropically-inclined Millennial generation. 13% of all investors currently participate in the crypto market, but Millennials are disproportionately invested in crypto (35%) or express interest in entering the market, compared to investors overall. Furthermore, Millennials tend to be more generous than the general population; almost 90% identify "charitable giving [as] an important part of their lives." As nonprofits express desires to diversify their donor pools and attract younger donors, it follows that these organizations should want to explore this opportunity.
How to Accept Crypto Donations
In order to move into the crypto philanthropy space, organizations and their leaders need to make informed decisions about the kind of pathway they want to create for their crypto-donors, how much involvement staff can/should have, and what related, internal policies need to be created. Tina Roh, co-founder and COO of Every.org, identified four methods for accepting cryptocurrency:
Use an intermediary 501(c)3 to minimize legal, accounting, and administrative burdens
Use a crypto donation processor to receive crypto directly
Use an embeddable checkout experience through a crypto exchange
Use your own crypto wallets and receive donations without any intermediary
Each of these options is perfectly valid depending on the capacity of the organization and the degree of familiarity and fluency that staff has in this Web3 space. For instance, option #1 looks a lot like (and in many cases, is) donating to a donor-advised fund (DAF). The DAF is, itself, a nonprofit that acts as a middleman. DAFs accept the cryptocurrency donation, immediately cash out to reinvest the money into the overall fund, and then disburse gifts to one or many nonprofit organizations. This process is appealing to nonprofits because it occurs without involving the ultimate beneficiary organizations in any of the technical mechanisms of receiving or converting the crypto gift. Crypto-investors may prefer this method as well because it is tax-efficient and gives donors current and ongoing input on what impact their money has.
Endaoment is one such DAF seeking to be a "new kind of community foundation." Based on the Ethereum blockchain, Endaoment utilizes digital smart contracts to award grants to various nonprofit organizations. From there, beneficiary organizations may choose to either have their gifts transferred to a bank account as U.S. dollars for a standard $15 fee or to a cryptocurrency wallet for essentially no cost. However, if organizations choose to hold their awards in their crypto wallets, they become subject to the volatility of the markets.

As for option #2, there are now a variety of crypto donation processors on the market that nonprofit organizations may choose from. Platforms like Engiven, The Giving Block, and BitPay are for-profit companies that can act as third-party facilitators of crypto donations. These services cost a nominal fee (usually a percentage of the donation) but save fundraising professionals from having to develop highly specialized, technical skills in addition to everything else that they do. Engiven, for example, recently launched two new services: the automatic creation of necessary tax forms and a free, automatic appraisal for donors giving gifts valued at more than $5,000. These automatic functions save development staff the time and effort of assembling forms and eliminates the appraisal expense which previously would have fallen to donors.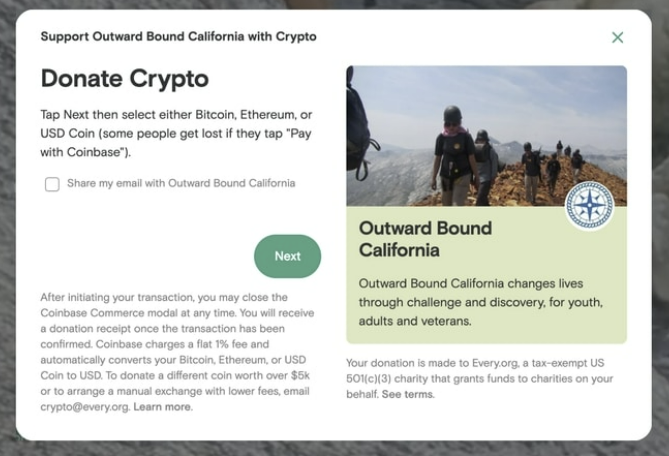 Every.org is a particularly interesting processor option because it is also a 501(c)3 private foundation with a mission "to build accessible giving infrastructure to help every person and organization use technology for good." Every.org funnels donors through Coinbase, which charges its own 1% fee, but offers its services to nonprofit organizations for no additional cost. Every.org also generates the necessary tax receipts automatically and "handles compliance," making it a low-touch option for fundraising professionals.
Whereas Every.org facilitates donations by creating a more complete donor experience around an embeddable service like Coinbase, some nonprofits may elect to use products like Coinbase or BitPay directly. In these scenarios, organizations would take on a higher burden around donor processing, data collection, tax acknowledgments, and technological upkeep. The upside, however, is that these institutions would reap the benefit of lower fees compared to other more comprehensive services, making it a particularly viable option for tech-savvy staffs.
Lastly, organizations could opt to simply set up their own crypto wallet and handle donations directly. This is the most burdensome on the development or organizational staff at large because it requires much more technological infrastructure to be developed in-house surrounding the actual transaction. Staff will have to research and choose a cryptocurrency wallet that best suits the needs of the organization and institute careful policies around keeping the wallet and its passphrase secure and how much cryptocurrency they actually want to hold at any point in time. Because "the ability to operate anonymously is a central tenet of crypto technology," organizations that choose this route will also have to build in processes to collect the necessary data to maintain detailed and useful databases and provide donors with tax documentation. Collecting and organizing crypto-donors information in one's database will be particularly useful as these donors have specific interests or priorities that development staffs should want to cater to directly.
Conclusion
Crypto-philanthropy is a promising, largely untapped opportunity for nonprofit organizations, especially those in the arts and culture sector. Some institutions are slowly beginning to enter the Web3 space. The Great Lakes Science Center began accepting Bitcoin admission payments in 2018. The Institute of Contemporary Art, San Diego works with The Giving Block to facilitate crypto-philanthropy gifts and even advertises their CryptoClub, a special tier of donor recognition with premium benefits specifically for crypto-philanthropists.
However, money is being left on the proverbial table. A majority of cryptocurrency investors are not aware that their investments can be donated to charity, leaving a significant portion of these philanthropically-inclined individuals in the dark about the tax benefits of such philanthropy, both in terms of avoiding capital gains tax as well as the tax deductions associated with traditional charitable giving. Then, of investors that want to pursue such donations, 46% report difficulty in finding charities that will accept the donations.
Alongside the need for greater organizational knowledge about how to engage crypto-philanthropists, organizations will also need to develop or deepen internal policies around cryptocurrency and investments. Some of these platforms allow organizations to receive in U.S. dollars donations that began as cryptocurrency. In other cases, the organization is directly trafficking in crypto and needs to write and abide by clear policies regarding how much of a donation can be held in its crypto form and for how long, especially given the extreme volatility of these markets.
Though the crypto-philanthropy field is still maturing, early players like the United Way have been accepting cryptocurrency donations for nearly a decade and the Kennedy Center has identified the founders of The Giving Block among the 50 leaders leading arts and culture into the future. The market has a wide array of platforms available to help facilitate donations from the many interested and motivated donors who represent a younger, dynamic, and innovative segment that development professionals would be excited to reach. It is now up to organizations to step up and seize the opportunities at hand.
---
Bibliography
BitPay. "Accept Bitcoin & Crypto Payments Anywhere with Zero Risk." Accessed May 4, 2022. https://bitpay.com/.
Every.org. "Accept Crypto Donations." Accessed May 4, 2022. https://www.every.org/crypto.
The Giving Block. "Accept Crypto Donations – Donate Crypto to Nonprofits." Accessed March 30, 2022. https://thegivingblock.com/.
Nonprofits Decoded. "Accepting Cryptocurrency Donations in 2022: Complete Guide for Nonprofits," February 22, 2021. https://nonprofitsdecoded.com/accepting-cryptocurrency-donations-nonprofit/.
Banton, Caroline. "What Is a Bitcoin Whale?" Investopedia (blog), July 22, 2021. https://www.investopedia.com/terms/b/bitcoin-whale.asp.
Beasley, Stephanie. "Will 2022 Be a Boom Year for Cryptocurrency Philanthropy?" Devex, January 5, 2022. https://www.devex.com/news/sponsored/will-2022-be-a-boom-year-for-cryptocurrency-philanthropy-102241.
Every.org Blog. "Best Ways to Accept Crypto Donations in 2021," January 7, 2022. https://blog.every.org/crypto-platforms/.
Cohn, Michael. "As Cryptocurrency Donations Rise, Nonprofits Grapple With Processing. – Free Online Library." The Non-Profit Times, July 1, 2021. https://www.thefreelibrary.com/As+Cryptocurrency+Donations+Rise%2c+Nonprofits+Grapple+With+Processing.-a0667878062.
"Coinbase – Buy and Sell Bitcoin, Ethereum, and More with Trust." Accessed May 4, 2022. https://www.coinbase.com/.
Couturier, Julie. "Cryptocurrency & Philanthropy: New Questions for Nonprofits." Johnson Center for Philanthropy (blog), January 18, 2022. https://johnsoncenter.org/blog/cryptocurrency-and-philanthropy-new-donors-and-new-questions-for-nonprofits/.
Fidelity Charitable. "Cryptocurrency and Philanthropy." Accessed March 30, 2022. https://www.fidelitycharitable.org/insights/cryptocurrency-and-philanthropy.html.
ICA. "Donate." Accessed May 4, 2022. https://icasandiego.org/donate/.
"Endaoment." Accessed May 4, 2022. https://endoament.org.
"Engiven, Inc. Launches IRS Tax Form and Appraisal Service for Cryptocurrency Donations," March 29, 2022. https://www.prnewswire.com/news-releases/engiven-inc-launches-irs-tax-form-and-appraisal-service-for-cryptocurrency-donations-301512487.html.
"Every.Org – GuideStar Profile." Accessed May 4, 2022. https://www.guidestar.org/profile/61-1913297.
Franck, Thomas. "One in Five Adults Has Invested in, Traded or Used Cryptocurrency, NBC News Poll Shows." CNBC, March 31, 2022, sec. Crypto World. https://www.cnbc.com/2022/03/31/cryptocurrency-news-21percent-of-adults-have-traded-or-used-crypto-nbc-poll-shows.html.
"Free Fundraising Platform for Nonprofits | Every.Org." Accessed May 4, 2022. https://www.every.org/nonprofits.
"Getting Started." Accessed May 4, 2022. https://docs.endaoment.org/.
Goodera. Crypto Philanthropy 101 – Goodera X Every.Org, 2022. https://www.youtube.com/watch?v=Eo78c5QP4Bk.
Engiven Cryptocurrency Donation Management Platform. "Home." Accessed May 4, 2022. https://engiven.com/.
Huston, Joe. "Crypto-Philanthropy Is Here. What Will It Do?," May 14, 2021. https://www.coindesk.com/markets/2021/05/14/crypto-philanthropy-is-here-what-will-it-do/.
Levesque, Janelle. "How to Utilize NFTs for Fundraising," February 24, 2022. https://blog.techsoup.org/posts/how-to-utilize-nfts-for-fundraising.
CCN.com. "Major Museum in the US to Accept Bitcoin, Big For Crypto Awareness," November 12, 2018. https://www.ccn.com/major-museum-in-the-us-to-accept-bitcoin-big-win-for-crypto-awareness/.
Marinoff, Nick. "UNICEF's 'Hope Page' Mines Cryptocurrency Through Visitors' Computers." Bitcoin Magazine: Bitcoin News, Articles, Charts, and Guides, April 30, 2018. https://bitcoinmagazine.com/business/unicefs-hope-page-mines-cryptocurrency-through-visitors-computers.
Marple, Mieke. "What's Really at Stake in the Debate over Whether NFTs Are Art." Artsy, January 24, 2022. https://www.artsy.net/article/artsy-editorial-stake-debate-nfts-art.
Matics, June. "Accepting Crypto Donations: 6 Updates to Your Gift Acceptance Policy," February 1, 2022. https://resources.freewill.com/accepting-crypto-donations-6-updates-to-make-to-your-nonprofits-gift-acceptance-policy.
Miettinen, Dylan. "Nonprofits Turn to Tech to Court Younger, More Diverse Donors." Marketplace (blog), January 14, 2022. https://www.marketplace.org/2022/01/14/nonprofits-turn-to-tech-to-court-younger-more-diverse-donors/.
Moss, Wes. "8 Types of Charitable Giving." The Balance (blog), January 14, 2022. https://www.thebalance.com/types-of-charitable-giving-1289740.
"Other Ways To Give." Accessed March 30, 2022. https://trustarts.org/pct_home/support/other-ways-to-give.
Bill & Melinda Gates Foundation. "Our Work." Accessed May 2, 2022. https://www.gatesfoundation.org/our-work.
"Pineapple Fund." Accessed March 20, 2022. https://pineapplefund.org/.
Ramaswamy, Anita. "Why Web3's Wealthy Are Donating Crypto Instead of Cash." TechCrunch (blog). Accessed March 20, 2022. https://social.techcrunch.com/2022/03/20/web3-charity-donate-crypto-cryptocurrency-nonprofit-cash/.
Ravindran, Naveen. "How Blockchain Will Transform the World of Giving?" Logiticks (blog). Accessed March 30, 2022. https://www.logiticks.com/blog/how-blockchain-will-transform-the-world-of-giving/.
Roh, Tina. "Cryptocurrency for Nonprofits: Risks and Considerations." Every.Org Blog (blog), June 4, 2021. https://blog.every.org/crypto-considerations/.
———. "What Your Nonprofit Needs to Know About Cryptocurrency Donations." National Council of Nonprofits (blog), December 8, 2021. https://www.councilofnonprofits.org/thought-leadership/what-your-nonprofit-needs-know-about-cryptocurrency-donations.
Sullivan, Paul. "Nonprofits Get a New Type of Donation: Cryptocurrency." The New York Times, July 30, 2021, sec. Your Money. https://www.nytimes.com/2021/07/30/your-money/cryptocurrency-donation-nonprofit.html.
The Kennedy Center. "The Kennedy Center Next 50." Accessed May 4, 2022. https://www.kennedy-center.org/our-story/social-impact/next-50/.
The Giving Block. "The Pineapple Fund Donated $55,000,000 in Nonprofit Bitcoin Grants. Here's What Happened:," August 30, 2021. https://thegivingblock.com/updates/news/pineapple-fund-bitcoin-donated-to-nonprofits-here-s-what-happened/.
"Trezor Hardware Wallet | The Original & Most Secure Bitcoin Wallet." Accessed May 3, 2022. https://trezor.io/.
"Want to Lower Your Cryptocurrency Taxes? Consider Donating Crypto." Accessed May 4, 2022. https://taxbit.com/blog/want-to-lower-your-cryptocurrency-taxes-consider-donating-crypto.
"Welcome!" Accessed May 4, 2022. https://docs.endaoment.org/.
The Giving Block. "What Are Donor Advised Funds For Cryptocurrency?" Accessed May 4, 2022. https://thegivingblock.com/resources/what-are-donor-advised-funds-for-cryptocurrency/.