Although mobile phones are usually frowned upon in the theatre, they may just be the future of live entertainment. GalaPro, the global developer of automated accessibility and translation technology for live shows, is making theatre more accessible and promoting equal access to and inclusivity in the entertainment industry. With GalaPro, live shows, theater, music, and opera can now include everyone, everywhere. 
About GalaPro
GalaPro's mission is to make entertainment accessible and inclusive to everyone interested in attending the theatre. This includes everyone at any venue, in any seat, anywhere in the world. Because even though Broadway theater is one of the largest and most popular tourist destinations in the world, its accessibility has always been limited. From limited wheelchair accommodations to scant autism-friendly performances, patrons with disabilities often find roadblocks to experiencing a Broadway show. And GalaPro is in business to help change that. 
GalaPro, short for GalaPrompter, began as an Isreal-based company in 2015 by Hagai Pipko and Dr. Elena Litsyn. It is the leading provider of in-show services in the theater industry. Broadway has implemented GalaPro in 90% of theaters, and over 30 Broadway touring venues have partnered with GalaPro. Some of the shows that use GalaPro include "School of Rock," "A Bronx Tale," "Come From Away," "The Band's Visit," "Chicago," and "The Phantom of the Opera." GalaPro's services are also available in over 20 regional markets across North America.
Using GalaPro is easy. Users download the GalaPro app on their phone and enter the theater, which has a wifi network solely dedicated to the app. The app requires the user to go into airplane mode for it to work, so the user doesn't need to worry about getting a call during the show. Then the user selects the show they're seeing, and the services selected will automatically begin playing on their device when the curtain goes up.
Services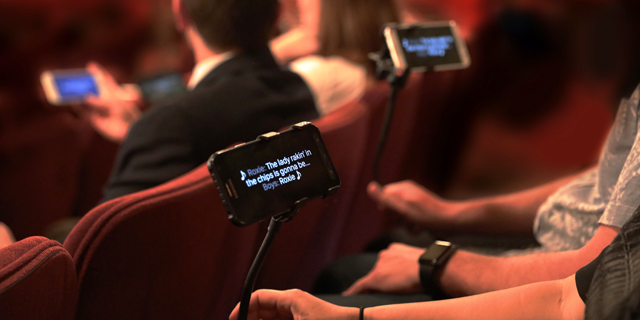 GalaPro offers many different services for each venue and/or production. With its extensive list of services, GalaPro is a solution for anyone. From patrons who use access services such as closed captioning, amplification, or audio description to those who prefer to access the show in their native language via subtitles or audio dubbing. Many of GalaPro's users find the closed caption service helpful to follow the show, especially when performers have distinct accents or speak quickly or quietly. GalaPro makes it easy to open the curtains to a universal cultural experience.
Although theatres have been able to offer similar services via rented equipment owned and operated by the theatre, GalaPro is the first of its kind to offer these services on-demand to individuals on their own devices. This makes it easier and cheaper for theatres to implement, which could potentially lead to a dramatically wider array of theatre companies being able to offer performances accessible to audience members with hearing and vision impairments. 
Venues that provide accessibility services through the GalaPro app no longer have to set special performance dates for open captioned or audio-described services. So many services are available at every performance, and patrons may sit anywhere in the venue to access them on their own mobile devices. Content is provided in real-time, using speech recognition technology, developed specifically for live performances and shows. Everyone is able to enjoy the show at every performance.
Using GalaPro is as easy as downloading the mobile app and choosing from the participating theaters. Users can search by city or current location.
These are some of the services GalaPro offers:
Subtitles (Language Translation)
Theatergoers can enjoy a show in their native language on their phone, in real-time throughout the performance. They can use their app settings to adjust font size and brightness. This subtitles service can be used in tandem with any audio service available at the show. 
Closed Captions
The closed caption service can be used to follow along and enjoy the show on your own device. Closed captioning is always available in the spoken language of the performance. Like subtitles, to adjust the font size and brightness of closed captions, you can use GalaPro's app settings. The app is able to be dimmed and uses a carefully chosen color scheme so as not to distract other audience members. This service can also be used in tandem with any audio service available at the show. 
In many cases, the app is able to pair the production's script with speech recognition software hooked into actors' microphones so that GalaPro's captions can stay in sync with the live performance without necessitating a dedicated operator. The app is connected to the hall's sound system, the computer sends a signal to the cloud, and the cloud instantly sends a signal to the app when to enter the text.
Audio Description
With audio description, you can connect your headphones from any seat in a theater. Theatergoers can connect their headphones before the performance begins to hear the pre-show description that includes character, set, and surroundings description. You can listen along during the show to hear a detailed account of the action happening onstage.
This service is intended for theatergoers with vision impairments. 
Dubbing
GalaPro's dubbing services work simultaneously throughout the show and provide users with a complete experience in their native language.
Amplification
Users can connect their headset to the device and use the amplified audio to enjoy and follow along with the show. This service can also be used with closed captions or subtitles.
Film
GalaPro's automatic video search helps users find their film in the database and share services directly to their mobile devices. The auto-search feature will even work later in the film if the user forgets to use it in the beginning. You can search from any point in the video, in any physical location and GalaPro will find the film. 
Live Captioning
You can connect GalaPro's live captioning services to your local CART (computer-assisted real-time captioning) provider and enjoy live-streamed captioning through the GalaPro app. There is no need for big screens to be set up, and it is a great solution for any unscripted event. 
GalaPro Partners
The Mayor's Office of Media and Entertainment (MOME)
The Mayor's Office of Media and Entertainment (MOME) has a partnership with GalaPro to continue revolutionizing the theatre-going experience. To foster greater access to theatrical performances for all New Yorkers, MOME provides up to $100,000 to cover the costs of installing GalaPro software in qualifying off-Broadway, not-for-profit, and independent theatres throughout New York City. MOME is also offering to reimburse theatres for the costs of a free one-time installation of GalaPro software. To qualify for reimbursement, theatres must be fully operating in New York City for a minimum of five years, and companies must produce or host four-six productions per season, with a run of at least 20 days. After the software installation is complete, individual productions hosted by the theatre will enjoy discounts on GalaPro services including closed captioning, audio translation, and language translation. Audience members who use the simultaneous language translation rather than the free closed captioning or audio description app pay a small fee.
The Schubert Foundation
GalaPro is also partnered with The Schubert Foundation, the nation's largest funder dedicated to unrestricted funding of not-for-profit theatres and dance companies. It is also the largest owner and operator of theaters on Broadway, with 17 theaters on Broadway and six off-Broadway theaters. It was founded in 1900 and has since been at the forefront of the American theater, producing alone and in partnership with hundreds of critically acclaimed Broadway plays and musicals. 
All of The Schubert Foundation's theaters in New York have started to offer GalaPro's services. Schubert has provided the GalaPro team with a real platform for testing its technology to make sure that the solution meets the highest standards in the industry.
The GalaPro app is available to download and free to use by all Broadway theaters owned by The Schubert Foundation.
The initial pilot of the app took place at the New World Stages' Off-Broadway Theater, at the screening of the musical, "The Story of the Suburbs." It provided translation into four languages, English, Russian, French, and Hebrew. 
Accessibility
The Schubert Accessibility Advisory Committee has guided and supported the GalaPro team throughout the development process. This committee was put together to ensure that GalaPro benefits as many people as possible, and is made up of organizations such as Hearing Loss Association of America, National Association for the Deaf, Association for Late Deafened Adults, National Foundation for the Blind, American Council for the Blind, Theatre Development Fund, and Hands On. The foundation wanted to make sure to set up a committee of people with disabilities to build a product that would accommodate their needs and theater consumption habits. The app was honored with a Sapolin Accessibility Award for Communication and Technology from the New York City Mayor's office in 2018. 
Following GalaPro's partnership with The Schubert Foundation, the Broadway League, the national trade association for the Broadway industry, has set a new standard for accessibility for all Broadway shows aimed at the general public. The standard requires technological access available at all times for all shows.
GalaPro is Changing the Industry—For Good
GalaPro is a solution for everyone, from seasoned opera and theater lovers to travelers who need accessible solutions. The app has marked the first time cell phones have been welcomed into theaters. This technology also means no back-light on the phone, and that any incoming messages or phone calls are immediately blocked. This results in a distraction-free experience for other guests and patrons. GalaPro is helping to extend accessibility beyond just translation. They're making it easier to buy your next ticket, and creating a social element to theatre performances, allowing patrons to rate shows while expanding the live theater and opera community, in general. 
With GalaPro, people can travel to a new city and enjoy a local event or show in their native language. People no longer have to wait for the one scheduled accessible show. GalaPro is an innovative solution that has made it easier to enjoy all content on-demand however you need. 
---
References
"About." GalaPro. Accessed May 4, 2022. https://www.galapro.com/about.
"About the League." The Broadway League. Accessed May 4, 2022. https://www.broadwayleague.com/about/about-us/.
Clements, Carly-Ann. "The GalaPro app is bringing theatre to all." Official London Theatre. April 15, 2019. https://officiallondontheatre.com/news/galapro-app-bringing-theatre/.
Culwell-Block, Logan. "Theatre Accessibility Smartphone App GalaPro Acquired by The Shubert Organization." Playbill. February 3, 2022. https://playbill.com/article/theatre-accessibility-smartphone-app-galapro-acquired-by-the-shubert-organization.
"GalaPro App." GalaPro. Accessed May 4, 2022. https://www.galapro.com/.
Geselowitz, Gabriela. "Israeli Start-Up Strives to Make Broadway Theaters More Accessible to Patrons with Disabilities." Tablet. February 8, 2018. https://www.tabletmag.com/sections/news/articles/israeli-start-up-strives-to-make-broadway-theaters-more-accessible-to-patrons-with-disabilities.
Goichman, Rafaela. "There's finally a reason to turn on the smartphone in the theater." TheMarker. August 14, 2016. https://www.themarker.com/technation/1.3038540.
Hagen, Marc. "Accessibility and Translation for Live Shows." Closing the Gap. November 16, 2018. https://www.closingthegap.com/accessibility-translation-for-live-shows/.
"Mayor's Office of Media and Entertainment Backs Innovative App To Make NYC Theatre Performances More Accessible." NYC. Accessed May 4, 2022. https://www1.nyc.gov/site/mome/news/10102018-galapro.page.
"New Translation App Set to Revolutionize Broadway Experiences for Non-English-Speaking Theater Goers." Atlas LS. June 7, 2018. https://atlasls.com/new-translation-app-broadway/.
"Our Services." GalaPro. Accessed May 4, 2022. https://www.galapro.com/services.
Shapira, Ariel. "TECH TALK: Now everyone can enjoy the theater." The Jerusalem Post. January 23, 2018. https://www.jpost.com/opinion/tech-talk-now-everyone-can-enjoy-the-theater-539612.
"The Schubert Foundation." The Schubert Foundation. Accessed May 4, 2022. https://www.shubertfoundation.org/.
"The Shubert Organization Acquires GalaPro App." The Shubert Organization. February 2, 2022. https://shubert.nyc/press/the-shubert-organization-acquires-galapro-app/.
Yablonko, Yasmin. "Israeli app offers live translations for Broadway." Globes. January 16, 2018. https://en.globes.co.il/en/article-israeli-app-offers-translations-for-broadway-plays-1001219776.