Proof of Attendance
The average theater goer walks into a performance with their ticket stub freshly procured from the box office. An usher hands them a playbill as they find their seat. Both items unique to the time and place of the event, and available only to those physically in attendance at the performance, these forms of memorabilia offer audiences collectible, tangible tokens to commemorate an arts experience. However, common practice in the digital age is to take a picture of the stage from one's seat with playbill in hand to post on social media and store in the cloud, transforming a physical token of memorabilia into a digital one. Today, we mark our in-person attendance with digital memories, finding opportunities to bridge ephemeral experiences with the longevity and security of our digital, online presence.
Proof of Attendance Protocols (POAP's, pronounced poh-ap) seek to bridge the divide between in-person experiences and our digital presence through Non-fungible Token (NFT) badges that can only be collected by those who attend an event. Each badge is unique and records the owner's attendance at an event on the blockchain, serving as irrefutable proof of attendance. They are collectible by design in the same way that a playbill, ticket stub, or concert t-shirt are, but without the risk of the collectible being lost or damaged. Their scarcity incentivizes attendance and collectability and provides those in attendance with evidence of their involvement in a community.
While POAPs originated in Ethereum communities, they are being increasingly used by mainstream organizations as a way to engage audiences and foster community across the digital-physical divide. At this year's SXSW conference, Fox Entertainment's new NFT studio Blockchain Creative Labs rewarded participants with POAPs at several venues throughout the festival, incentivizing attendees to go to each location to collect the whole set. Doodle, an NFT collective, partnered with Behr paint at their SXSW activation to distribute POAPs to participants that featured artwork and new paint swatches from the companies' collaboration. In April, Warner Music Group, the third largest recording company in the music industry, inked a deal with the startup behind POAPs to create exclusive drops for concert goers and to connect artists directly with their fans.
Between the environmental impact of NFTs, the volatility of crypto currency, and the reproducibility of the digital image, the rise of NFTs in our zeitgeist is accompanied by necessary discourse. However, POAPs pose a unique use-case for these digital assets for event holders and goers alike. So, are POAPs another NFT gimmick, or a legitimate way to engage audiences across the digital-physical divide?
POAPs, Blockchain, and NFTs
POAPs were originally developed for ETHDenver 2019, an Ethereum conference and hackathon that served to showcase the capabilities of the Ethereum cryptocurrency and blockchain technology at large. The creator of POAPs, Gonzalo Sainz Trápaga, sought to create a standardized, accessible, secure, and free way for event organizers to distribute digital badges to attendees using the unique properties of blockchain and NFTs. He created POAP Inc. as a centralized platform for issuers and collectors to create and mint NFT badges using his open-source infrastructure.
POAPs are NFTs created and minted using a smart contract on the blockchain, managed by POAP Inc. to record specific event and ownership data (for an in-depth overview on this technology, read through this AMT Lab deep dive). In short, blockchain is a way to store information in a way that is almost impossible to alter or remove by using Distributed Ledger Technology (DLT). When an NFT is minted on the blockchain, ownership and transaction information is recorded using DLT. The ledger records this data in a way that is nearly immutable by using a "proof-of-stake" verification system. This means that even if a POAP is bought, sold, or transferred, proof of the original owner and the event is irrefutable through the ledger's recording.
POAP's smart contract mints NFT badges as standard ERC-721 tokens, the standard for all NFTs. The main characteristic for this type of token is that each one is unique and gives the holder ownership rights to the token. This standard guarantees that these NFT digital tokens are unique to the time and place of the event they were created for, and that they are unique to the owner of the POAP. Unlike most NFTs, POAPs are minted using the Gnosis Chain (formerly the xDai chain). This Ethereum-based sidechain uses a unique proof-of-stake mechanism that verifies transactions on a bridge chain. This makes transactions faster and inexpensive by avoiding high Ethereum gas prices and congestion. Minting NFTs on the Gnosis Chain is far more energy efficient than Bitcoin or Ethereum 1.0, mitigating the environmental impact of minting these NFTs. This also allows POAPs to be free for everyone to engage with, issuers and collectors alike, as the fees to mint POAPs as NFTs are so minimal that the company picks up the tab.
How do they work?
While POAPs are unique in how they utilize blockchain technology, neither the issuer nor the collector needs a crypto wallet to create and collect POAPs, although it is required to mint POAPs as NFTS and engage with the full range of benefits that POAPs can offer.
POAPs can be created and issued to event attendees using POAP Inc's official platform for either in-person or digital events. Issuers fill out a form on POAP's website to "create a drop", which requires the issuer to provide event details including the time and place of the event, what the POAP will commemorate, how they will be distributed, how many will be issued, along with a file of the POAP's design, and the issuer's email address. Once the image is approved for distribution and clears the organization's guidelines, the issuer receives an email with unique links for collectors to claim their digital badge.
Collectors can reserve POAPs through this unique link on POAPs platform. This link can be distributed to attendees directly through the email address they provide the organization upon event registration, by airdropping a link at the event, or using QR codes on-site. From this link, collectors only need to provide their email address to reserve their POAP and start or add to their collection. By connecting a crypto wallet to POAP Inc's platform, collectors can mint the POAP as an NFT. Otherwise, POAPs can be collected and stored on the platform and on the app tied to the collector's email address.
The process to issue and collect POAPs requires minimal effort by both parties, making them logistically easy to integrate into an event. Additionally, issuing and collecting POAPs requires minimal Personally Identifiable Information (PII) be shared with the company. Nothing more than an email address or Ethereum wallet is required by the company to issue or collect tokens, mitigating the risk of personal data being leaked.
Use Cases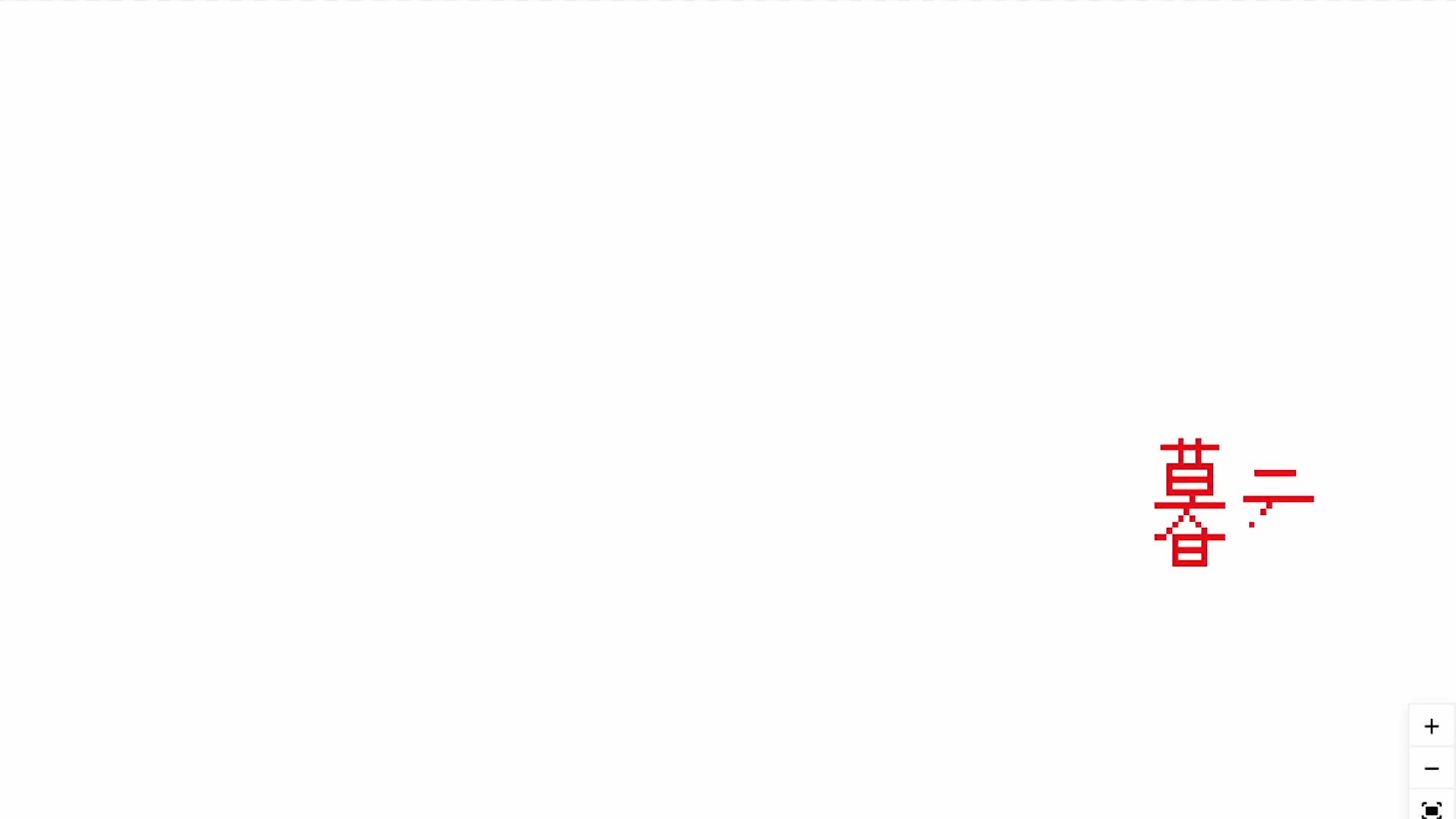 At their core, POAPs were developed to bring communities together to celebrate a special, shared memory. Beyond collectability, POAPs can be used to engage audiences through a range of activities, live or digital, during or after an event takes place.
POAP tokens can be used to provide holders with exclusive access to community forums or events. This can range from Discord channel invitations to metaverse event access and VIP parties that connect members of a community together. POAP.vote allows issuers to create polls for POAP token holders, organized so that only those with unique links tied to an event can participate. Raffles can be held using POAP.fun where one eligible POAP gives collectors one raffle ticket entry. This can be used by event organizers to hold raffles with real-world or digital prizes to event attendees. Issuers can also connect to collectors through airdrops and can send event attendees discount codes or pre-sale merch links.
Still in Beta, POAP.art is the newest initiative by POAP that sits at "the intersection of art and tech." This extension provides eligible POAP owners with a shared, interactive canvas where community members can participate in "paint parties". During a select timeframe, community members can select one pixel color per second to create a collective work of art with other POAP holders. Canvases range in size, upwards of 4096×4096 pixels. After the paint party ends, the artwork is minted as an NFT for the community.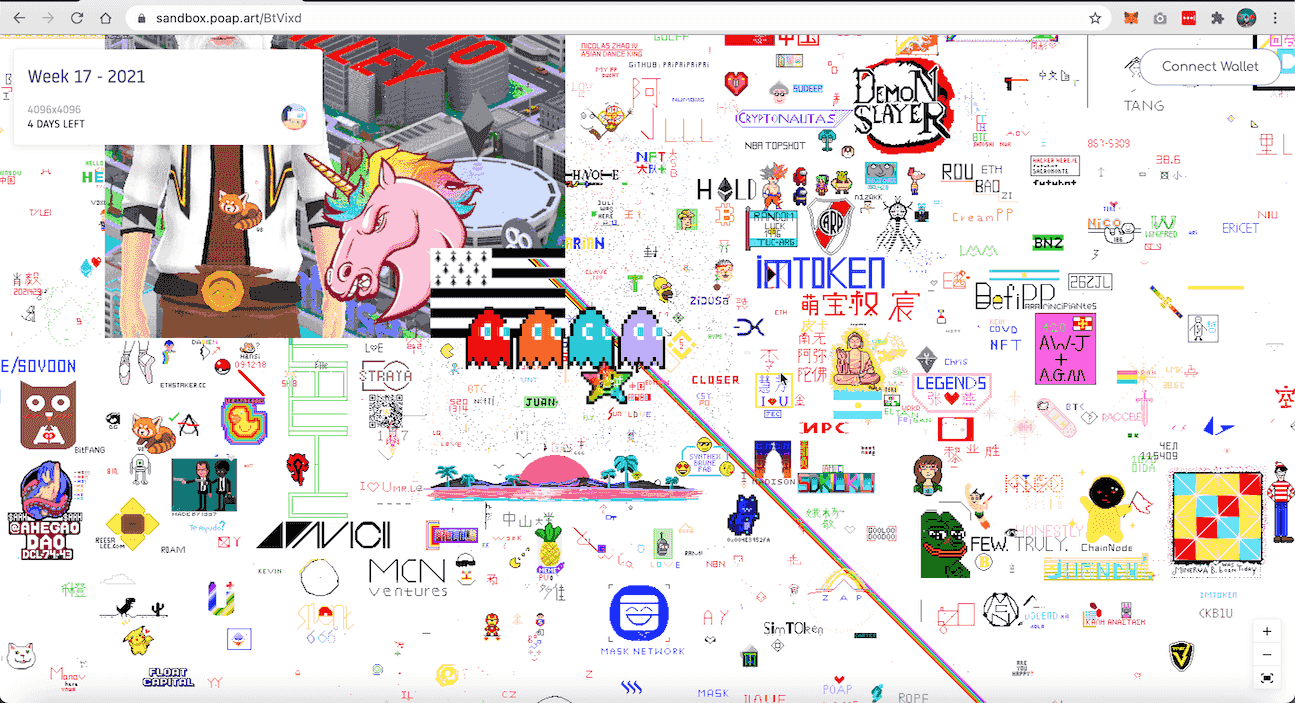 A crypto wallet is needed to participate – specifically a non-hardware connected MetaMask wallet – as well as an eligible POAP which can be obtained through a public POAP-claim process. Currently, this initiative is only hosted by POAP and is free for the public to participate in. But if this activation is anything like POAP's other initiatives, it will soon be available for issuers to develop for their own private communities.
Conclusion
Memorabilia serves as a way to bookmark and catalog life events. While attendees at in-person events have traditional opportunities to collect memorabilia, like saving ticket stubs or taking photos of themselves at the event, memorabilia is more difficult to provide digital event-goers. With the rise of digital events due to the COVID-19 pandemic, POAPs give event coordinators an opportunity to distribute meaningful, unique memorabilia to these attendees. These collectible digital tokens serve as a means to display these bookmarks and encourage event attendance and participation. Coupled with interactive, community-oriented activities, POAPs as memorabilia deepen audience engagement and elevate experiences.
POAPs utilize blockchain and NFTs in unique ways while mitigating some of their drawbacks. However, collecting and displaying these tokens is most meaningful if the collector and their community are already interested and involved with digital communities. The attributes of POAPs are more aligned with what makes tangible collectibles so special, but they fall short when the collections are difficult to openly display and share. Given the growing ubiquity of Web3.0 and the increasingly active online presence of individuals and communities, POAPs pose a potential use case for NFTs to help foster community as event coordinators navigate this changing event landscape.
Bibliography
"Blockchain Explained: What Is Blockchain? | Euromoney Learning." Accessed May 5, 2022. //www.euromoney.com/learning/blockchain-explained/what-is-blockchain.
Crawford, Brett. "NFTs and Arts Management." AMT Lab @ CMU, July 31, 2021. https://amt-lab.org/blog/2021/7/nfts-and-arts-management.
Cruz, Olivia. "WTF Is a POAP: Blockchain Creative Labs Launches New SXSW Fan Experience." SXSW (blog), March 11, 2022. https://www.sxsw.com/news/2022/wtf-is-a-poap-blockchain-creative-labs-launches-new-sxsw-fan-experience/.
Gilbert, Samuel. "What Is POAP?" Advice and answers from the POAP Team. Accessed April 20, 2022. https://help.poap.xyz/en/articles/5820491-what-is-poap.
GoodVibesOhmly. "The Art Of the POAP Is in the Event Details." Odyssey Magazine, January 1, 2022. https://livethelife.tv/poap/.
Iyer, Jenee. "Blockchain Explained: Understanding the Technology and Its Applications for the Arts, Part 1 of 3." AMT Lab @ CMU, September 26, 2018. https://amt-lab.org/blog/2018/9/blockchain-an-intro-for-the-arts-part-1-of-3.
Matney, Lucas. "Web3 'Proof of Attendance' Startup Raises $10M to Mint Shared Memories as NFTs." TechCrunch (blog). Accessed April 20, 2022. https://social.techcrunch.com/2022/01/19/web3-proof-of-attendance-startup-raises-10m-to-mint-shared-memories-as-nfts/.
"MetaJuice Partners with Metaverse Native Luxury Fashion Brand Auroboros and Grimes to Showcase in Decentraland and Extend the Experience into IMVU, the World's Largest Social Metaverse," March 28, 2022. https://finance.yahoo.com/news/metajuice-partners-metaverse-native-luxury-112900927.html.
NATALEE. "Behr Is Helping Bring Doodles' Iconic Colors to Life in a One-of-a-Kind Immersive Experience at the SXSW Festival | NFT CULTURE | NFT News | Interviews and More." NFT CULTURE (blog), March 11, 2022. https://www.nftculture.com/hof/behr-is-helping-bring-doodles-iconic-colors-to-life-in-a-one-of-a-kind-immersive-experience-at-the-sxsw-festival/.
NATALEE. "Illustrative Space Launches Proof of Presence (PoP) at SXSW | NFT CULTURE | NFT News | Interviews and More." NFT CULTURE (blog), March 4, 2022. https://www.nftculture.com/newsletter/illustrative-space-launches-proof-of-presence-pop-at-sxsw/.
ethereum.org. "Non-Fungible Tokens (NFT)." Accessed April 21, 2022. https://ethereum.org.
Pine II, B. Joseph, and James H. Gilmore. "Welcome to the Experience Economy." Harvard Business Review, July 1, 1998. https://hbr.org/1998/07/welcome-to-the-experience-economy.
poap.xyz. "POAP." Accessed April 20, 2022. https://www.poap.xyz/.
poap.xyz. "POAP – FAQ." Accessed April 25, 2022. https://www.poap.xyz/.
POAP Lightning Talk at EthCC Paris on March 7th, 2019, 2019. https://www.youtube.com/watch?v=VZlmQjhz3ko.
Ravi, Reethu. "What Is a POAP? Find out and Start Collecting NFT Attendance Badges Today!" NFT Evening (blog), September 6, 2021. https://nftevening.com/poaps-all-you-need-to-know-about-nft-badges/.
Stassen, Murray. "Warner to 'Mint Shared Memories as NFTs' in Partnership with $10m-Backed Web3 Startup POAP." Music Business Worldwide, April 14, 2022. https://www.musicbusinessworldwide.com/warner-to-mint-shared-memories-as-nfts-in-partnership-with-10m-backed-web3-startup-poap/.
IBM. "What Is Blockchain Technology? – IBM Blockchain | IBM." Accessed April 21, 2022. https://www.ibm.com/topics/what-is-blockchain.
ethstaker.cc. "What Is POAP.Art? A Comprehensive Step-by-Step Walkthrough.," April 30, 2021. https://ethstaker-dev.staging.wpmudev.host/what-is-poap-art/.
White-Gomez, Alex. "How to Set Up Your POAP App and Claim Your First POAP." One37pm, March 18, 2022. https://www.one37pm.com/nft/set-up-your-poap-app.