Technology has always been a really big part of the music business, and has really dictated how we make music, how we consume music."

—— Kristin Robinson, Billboard's music publishing reporter

Today, NFT probably is no longer a foreign term to many. The digital assets stored on a blockchain have now made their way everywhere, from digital arts, and fashion, to physical event tickets. NFT sales have skyrocketed, especially in recent days. In 2021, the total sales of NFT reached $25 billion in comparison to the total volume of $95 million in 2020. Just in the first few months of 2022, the daily sales in Opensea, an online NFT marketplace, have hit their new highest record. As NFT continues to expand its array of industries, music is no exception to this tremendously growing party.
Music production and the market are moving fast. While fans constantly accommodate their tastes to fresh sounds on airwaves, artists are also working hard to ride with the latest trends and opportunities. NFTs have the potential to transform the future of music. Their impact is compelling in many ways, including equitable compensation, diverse approaches to NFT selling, and potential profits from the natural appeal of scarcity.
Issues of the music industry
While the global music industry has embraced exponential growth in recent years, artists have encountered unfair payment for their talents. A report from Fortune suggests the typical revenue divide between an artist and other parties is 50/50, with about 50% going to the creator and the rest being split between artists, record labels, agents, lawyers, distributors, and other "stakeholders." Research further indicates that only about 1% of the artists receive 90% of their streams, and only about 0.8% of top artists can earn about $50,000 per year. Artists find it to be extremely difficult to make a living through their music. Even a fairly successful artist like Daniel Allen, who has his songs playing millions in 2020, receives only a few hundred dollars every month. Apart from this, the label usually holds the original recording of a song, which means the artists only maintain a right to royalties and have absolutely no control over where the music gets to be played. Even when artists are no longer under the label, the company will still hold ownership of their songs.
NFT restores fair payment and autonomy for artists
While artists are struggling with piles of issues, NFT emerged as a new medium to present, market their music, as well as to engage with fans. Music NFTs can take various forms. It can be a song in the form of an audio file or video, an album cover, a concert ticket, merchandise, etc. The unrepeatable music NFTs can be a one-off auction on an audio file or a limited number of copies. Buyers can then store the music NFTs in their crypto wallets. The non-fungible digital files are encoded on the blockchains, such as Ethereum and Solana. NFTs are designed to be unique, immutable, and authentic. Therefore, It gives the artists complete control over how they want their works to be distributed and what rights will be associated with the token by the underlying smart contracts. When artists sell the NFTs, they can decide to preserve all their rights over the creation, as well as the percentage of royalties they want to receive. Once the smart contract is baked into the token, all the terms will automatically apply at every time of future transactions. What it means is that now musicians will have complete autonomy over their creations.
In 2021, EDM artist 3LAU auctioned 33 NFT collectible versions of his album Ultraviolet, which was marked as the first music album to be tokenized. Those NFTs are set to three different levels of rarities, ranging from "Platinum" for the highest bidder to "Gold" for bidders 2-6 and "Silver" for bidders 7-33. Each NFT album also comes with additional gifts, such as a custom song, a limited edition vinyl, or a random selection of 3 NFT songs in the album. It breaks the single NFT record with a total volume of $11.6 million. 3LAU was then joined by artists such as Grimes, The Weekend, and Shawn Mendes. Most recently, Snoop Dogg announced that his former label, Death Row Records, will be an NFT label. In addition, the Kings of Leon was the first band to release an NFT album, featuring tokens of special perks, including special albums, limited-edition vinyl, exclusive art, and front row seats to future live concerts.
Crowdfunding and fun-based community
Music NFTs open the potential of fan crowdfunding. Musicians can raise funding for songs with simply one social media post. After the pandemic led to a complete halt on live performances, Daniel Allan also turned to NFTs. He managed to raise 50 ETH ($140,000 on the day of trading) in a one-day campaign to crowdfund his upcoming album Overstimulated by auctioning off 50% of his share of future master royalties. He sells songs individually through the NFT music platform Catalog and makes 85% of his living off NFTs. Similarly, Danny Saucedo, one of the most popular Sweden artists, has released multiple singles on his own since he became independent from Sony Music. He raised the same amount he would have from a major label within 48 hours.
Those successful fan-funding cases reflect a brand new model for the music industry, which has the potential for a drastic change in the industry to be more decentralized and less reliant on the major labels. It becomes possible for artists to gain independence over what they want to create and promote. At the same time, it allows fans to be involved in the creation process in a way they never had before.
Interesting approaches to music NFTs
There are more exciting approaches to selling NFTs. The platform Triptcip allows users to create visualizations for music using a tool called VOID. It makes it easy and fast for electronic music producers to create decent visual content synchronized to their tracks without 3D artists. Another innovative approach comes from the music producer ILLmind. He has launched an exclusive sample pack, which will give the owner "TRUE digital ownership of the pack, backed by blockchain history."
NFT also provides new ways for artists to engage with fans and broaden their fanbase. Crypto airdrops are a marketing tactic where free tokens from a specific blockchain project will be sent to users. It can increase the awareness of NFT products, reach new audiences, and increase publicity, which will boost the price of a token in return. There are three types of airdrops. Standard airdrops can apply by completing the required information or promotional tasks, such as providing a crypto wallet address to receive the airdrop. Exclusive airdrops are usually reserved for users loyal to a blockchain project. Similar to standard airdrops, bounty airdrops ask participants to complete more promotion work to spread the word about the project, which frequently occurs on social media platforms such as Facebook or Twitter. Holder Airdrops requires participants to have an existing cryptocurrency like ETH or BTC in order to receive the item.
Other parties sharing the pie
Not only is NFT profitable for artists, but the holders can also benefit from it. The UK-based FRESHA Records released a collection of royalty-share NFTs on some of the label's biggest classical hits and will further tokenize ten classic singles and two albums on OpenSea. The buyers will be entitled to a 10-year royalty share of an annual rate of 15% net income, excluding publishing. Meanwhile, Relics became the first NFT platform to operate within a record label – Monstercat. The digital collectibles are referred to as "Relic", which can integrate music in the Metaverse. Users can have them as theme songs in worlds, games, and play-to-earn ecosystems.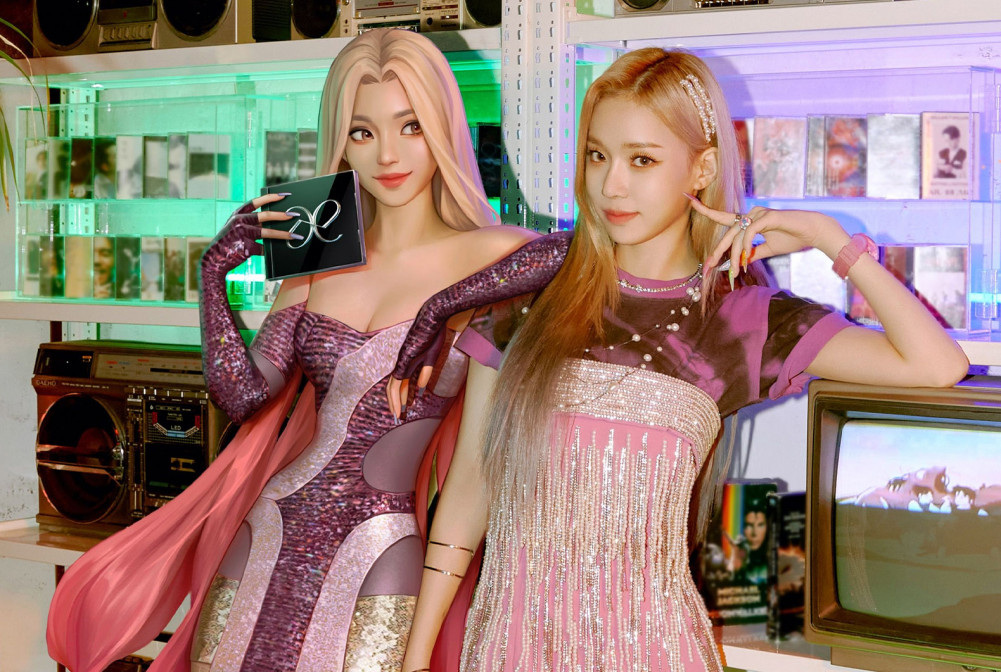 K-pop companies have also jumped on the NFT trends. In October 2020, the famous K-pop company SM Entertainment expanded to the digital space with its new "Metaverse Girl Group" Aespa, featuring four human members and four virtual counterparts. In the following year, the company launched a partnership with Binance in developing NFT content. Users will be able to create content in music, game, dance, and goods under SM authorized IPs and earn profits and recognition within the named "P2C ecosystem".
Following the steps of SM, some of the top K-pop companies are also working closely with the NFT platform based on their IPs. For example, Kpop Group BTS, in collaboration with Dunamu, launched its own NFT set in the form of photo cards and digital versions of collectible cards featuring BTS members. In a statement to The Wall Street Journal, John Kim, the head of HYBE America's project, said that "we believe NFTs have the potential for expansion and hope they will provide fans with more varied experiences and opportunities to express themselves." Similarly, JYP Entertainment also used Dunamu to distribute digital content of its group, including TWICE, Stray kids, Day6, ITZY, 2PM, and its Japan-based group NizuU.
In the meantime, Entertainment companies plan to market NFTs as a channel to interact with their favorite idols beyond being digital collectibles. The Show, a weekly music show based in South Korea, published a set of "The Show FanBox NFT Collection," featuring short clips of K-pop artists appearing on the show. The fans who purchase expensive items will gain access to The Show's live performances.
Future for the NFT and music
Like other creative industries, the rise of NFT in the music space is not without concerns. The most potent one will be the environmental burden. Additionally, the NFT music sets a high barrier to many artists, as it prioritizes those who are "tech-savvy, extroverted, and able to be constantly online and releasing content." And despite the enormous profits NFT is capable of generating, it has not yet been accepted as a mainstream way for people to consume music. In many cases, consumers regard NFT music as a way of investing or supporting those artists they feel are undervalued by the traditional industry.
Conversely, NFTs demonstrate many attractive propositions: fair compensation and composing freedom, vest kinds of collaborations, and appeals to scarcities and their commercial potential. However, we can be certain that as an evolving technology, it has already changed many artists' lives. As Daniel Allan puts it: "I felt that a lot of my career was making a certain type of music that I had to make — and at times I didn't really connect with. From an artistic standpoint, I just feel like NFTs and Web 3 in general can create a much brighter space for art."
---
Bibliography
Aniftos, Rania. "Billboard Explains: Nfts & the Music Industry." Billboard, March 23, 2022.
https://www.billboard.com/music/music-news/billboard-explains-nfts-music-industry-1235047955/.
"BTS Agency Hybe Says Its Moving Forward with NFT Plans." NME, January 4, 2022.
https://www.nme.com/news/music/bts-agency-hybe-says-its-moving-forward-with-nft-plans-3129405.
Chow, Andrew R. "Can Nfts Challenge the Traditional Music Industry?" Time. Time, December 2, 2021.
https://time.com/6124814/music-industry-nft/.
"Crypto and NFT Airdrops: What Are They and How Do They Work?" BeInCrypto, March 16, 2022.
https://beincrypto.com/learn/crypto-and-nft-airdrop/.
Exposito, Alyssa. "Record Label CEO Explains How Music Nfts Are Set to Revolutionize the Industry."
Cointelegraph. Cointelegraph, February 22, 2022.
https://cointelegraph.com/news/record-label-ceo-explains-how-music-nfts-are-set-to-revolutionize-the-industry.
Fatemi, Falon. "Here's How Nfts Could Define the Future of Music." Forbes. Forbes Magazine, April 14,
2022. https://www.forbes.com/sites/falonfatemi/2022/01/24/nfts-and-the-future-of-music/?s
h=6309637e5677.
Fraser, Jake. "How Nfts Could Redefine the Future of the Music Industry." VentureBeat. VentureBeat,
February 19, 2022. https://venturebeat.com/2022/02/19/how-nfts-could-redefine-the-future-of-the-music-industry/.
"The Future of Music NFTS Is Here , It's Time to Get Involved." Kulture Hub, March 21, 2022.
https://kulturehub.com/music-nfts-arrived/.
"How Music NFTS Could Disrupt the Music Industry." Crypto News, April 5, 1970.
https://cryptonews.com/exclusives/how-music-nfts-could-disrupt-music-industry.htm.
"How to Create Music Nfts: Guide for Music Producers." Production Music Live. Accessed April 20,
2022. https://www.productionmusiclive.com/blogs/news/how-to-create-music-nfts-guide-for-music-producers-2022.
"K-Pop Groups That Disbanded in 2021 | Allkpop." Accessed May 5, 2022.
https://www.allkpop.com/article/2021/12/k-pop-groups-that-disbanded-in-2021.
"NFTs Are One Innovation the K-Pop Industry Doesn't Need to Get on Board With." NME, November
12, 2021.
https://www.nme.com/features/music-features/nfts-are-one-innovation-the-k-pop-industry-doesnt-need-to-get-on-board-with-3093994.
Stassen, Murray. "K-Pop Giant SM Entertainment Strikes 'play2create' NFT Partnership with Crypto
Exchange Binance." Music Business Worldwide, February 28, 2022.
https://www.musicbusinessworldwide.com/k-pop-giant-sm-entertainment-strikes-play2create-nft-partnership-with-crypto-exchange-binance/.
Tengblad, Mattias. "Commentary: Nfts Are Revolutionizing the Music Industry Too." Fortune. Fortune,
October 29, 2021. https://fortune.com/2021/10/29/nfts-music-industry/.
Turley, Cooper. "3LAU Breaks NFT Auction Record with $11.6m in Sales." The Defiant, September 15,
2021. https://thedefiant.io/3lau-breaks-nft-auction-record-with-11-6m-in-sales/.
"Why Nfts and Cryptocurrency Appeal to K-Pop Labels." South China Morning Post, November 17, 2021. https://www.scmp.com/lifestyle/k-pop/article/3155551/nfts-and-cryptocurrency-draw-k-pop-labels-behind-bts-blackpink.