"If you're wearing your Disney MagicBand and you've made a reservation, a host will greet you at the drawbridge and already know your name—Welcome Mr. Tanner!…The hostess, on her modified iPhone, received a signal when the family was just a few paces away. Tanner family inbound! The kitchen also queued up: Two French onion soups, two roast beef sandwiches! When they sat down, a radio receiver in the table picked up the signals from their MagicBands and triangulated their location using another receiver in the ceiling. The server—as in waitperson, not computer array—knew what they ordered before they even approached the restaurant and knew where they were sitting."

Source: Cliff Kuang, WIRED
This is the matrix of communication technology that Disney Parks and Resorts have mastered to craft a magical guest experience. Underneath that magic is Near-field communication (NFC) technology, which has been transforming live event experiences for years. Disney Parks is at the forefront of the change, having utilized the all-in-one-device MagicBand since 2013, which renders the park into dynamic computer, streaming real-time data about where guests are and what they're buying.
This "invisible" wearable technology has created a seamless guest experience where people are happier by stripping their options away. MagicBands let Disney guests set their must-do's and let everything else unfold naturally around what they have selected. (Disney recently shifted to "MagicMobile," which allows Apple users to access that MagicBand technology for free with their mobile device.) 
Beyond MagicBands, NFC tech has built rapid momentum in credit card payment processing, digital wallets, wearable tech, and the broader Internet of Things (IoT) universe. New NFC activations increased 71% from 2018 to 2020, while NFC interactions increased 63% over that same period. In fact, 1.6 billion NFC-enabled devices are expected to reach the market by 2024. The numbers are even more significant when looking at the IoT beyond NFC. By 2030, an estimated 500 billion IoT-enabled devices will be in circulation. NFC is expected to become more widely adopted outside of payments, particularly among the IoT, due to the rise in demand for contactless technology. For performing arts organizations wanting to streamline their front-of-house operations and design a patron-centric user experience, NFC technology is promising and remarkably cost-effective.
What is NFC technology?
Near-field communication is a series of communication protocols that allows two electronic devices to communicate over a distance. NFC is based on radio-frequency identification (RFID) technology, which allows compatible hardware to use radio waves to both controls and communicate with otherwise unpowered and passive electronic tags. NFC transmits electromagnetic induction with unpowered and passive electronic tags, so the passive device doesn't need its own power supply. The principal mechanism of NFC communication is the relationship between the emitter or reader/writer, and the tag or card. The antennas of the Emitter and Tag are coupled via an Electromagnetic Field, and an alternating current passes through the primary coil (Emitter), which induces a field through the air, inducing a current in the secondary coil (Tag).
These tags store data, such as URL addresses, Wi-Fi or Bluetooth pairing, SMS, Email, Vcard, and phone configurations. In the user experience, that Tag is the guest's MagicBand, phone, or any wearable technology that provides the energy-supplying electromagnetic field and reads the tags. After the Emitter determines if the tag can be read, it reads the NFC Data Exchange Format (NDEF) and stores it in the Tag's EEPROM (electrically erasable programmable read-only memory).
There are three different NFC Modes of Operation, as defined by the NFC Forum.
In Reader Mode, the NFC-enabled phone can read or write data to any of the four supported tag types in a standard NFC data format. Reader Mode is highly applicable in NFC advertising, such as Samsung's 'Share to Go' posters. Using NFC on signage allows market segments to access a more in-depth product experience, just with a simple tap. For organizations interested in applying this technology, Beaconstac offers simple solutions to embed NFC hardware through tags and stickers, including cost-effective NFC sticker tags for proximity marketing.
In Card Emulation mode, a device acts as a Tag during interaction with another NFC-enabled phone. Card Emulation Mode technology is utilized in public transportation networks and contactless credit card purchases, such as Google and Apple Pay.
Peer to Peer enables two NFC-equipped devices to exchange data, acting as emitters. In this Mode, two smartphones can share a Bluetooth or Wi-Fi password to start Bluetooth or connect to Wi-Fi.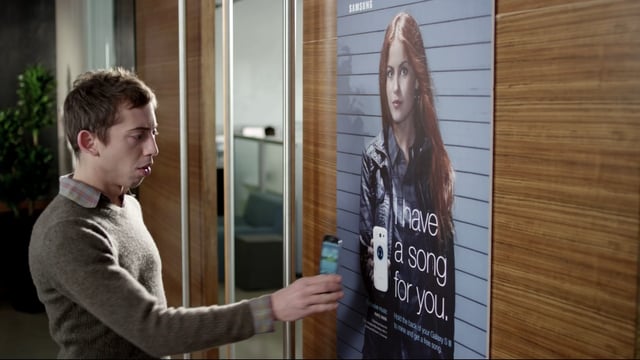 NFC and Ticketing
In the live event and attraction space, NFC (which is a specific type of RFID) has streamlined ticketed entry and payment. Line length is the number one frustration while at an event, and guests will often change their intentions upon seeing a long line unless they feel it is unavoidable. RFID solutions have been shown to reduce the average transaction time from 90 seconds to 15 seconds, while delivering as much as 30% higher spend per guest. Wearable NFCs can minimize this behavior.
But what about QR codes?
While Quick-Reference codes are quick, cheap, and easy to develop and deploy, they are vulnerable to certain security risks and performance issues, especially in bottleneck crowds. For ticket validation, users need to position a QR Code at the correct angle and distance from the reader. On smartphones, QR codes need to be opened, unlocked, have sufficient power, and ensure it is displayed clearly and brightly. Alongside these poor ergonomics, users could be victims of fraudulent codes to inadvertently download malicious software or make compromised payments. According to a consumer poll, 71 percent of people cannot tell the difference between a legitimate or malicious QR Code and 35 percent are unaware that QR Codes are used by criminals. The security issues of QR codes for ticketing means that despite these low initial costs, longer-term spending may increase as agencies deploy resources to mitigate risks.
NFC, alternatively, validates transactions in only 120mms with its 'tap and go' technology. NFC contactless devices draw their power from the reading terminal, so even if a phone battery is flat, they are still usable and won't cause line backups. Additionally, using NFC 'taps' to enter and exit a space make it nearly if not impossible to fraudulently duplicate, effectively rendering forgery of tickets useless. NFC is also the most secure because it can implement added encryption that is only accessible when the user taps the Tag with their device.
NFC and Payment
The future is contactless and commerce-on-the-go. NFC technology has changed the system of credit card payments through mobile wallets/ apps that offer a secure place to store digital valuables for convenient on the go use. Data involved in an NFC mobile wallet transaction has two layers of protection, one being the device itself, and the other as the data encryption. Similar to EMV chip cards, mobile wallets that use NFC tech are more secure than magnetic strip cards. Merchants also benefit from NFC payments because it allows for effective integration of customer loyalty programs into payment processing. For instance, customers can redeem a coupon immediately with the tap of their phone.
Does NFC Technology have a Place in Arts Enterprises?
The system of attending a performing arts event doesn't involve as many points of contact as a visit to Epcot or Animal Kingdom. Patrons aren't running their credit cards up for five to six attractions, but instead sitting down for a single event. While the modern structure of event attendance at arts enterprises limits these points of contact, organizations can still harness these "NFC Tap Points" to gather meaningful data on their patrons' habits. The figure below displays these flexible points in the customer journey that organizations can integrate NFC technology.
Ticket Purchase: NFC-enabled devices are first utilized when a patron purchases their ticket in-house.
Parking: For organizations that own adjacent parking terminals, integrating NFC so the patron simply scans their phone/wearable could significantly streamline the payment process and user experience.
Ticket Verification: Tap-and-go technology is proven to decrease waiting times, and it also offers an opportunity for data collection on how early the patron arrives to performance.
Refreshments/Merchandise: Using purchase data from patrons can help institutions build customer purchase patterns and make suggestions for future performances. Imagine having your drink-of-choice ready for you when you enter the mezzanine!
Coat Check: For winter nights, the coat check is a potential tap point for users who want to leave a tip or donation for event staff.
Organizations can brainstorm additional creative tap points as they develop various customer journeys. Perhaps one of the biggest takeaways from using NFC in a performing arts venue is streamlined purchases from the customer's digital wallet. According to research from Intellix, the media platform for the events sector, festival organizers saw their revenue jump by up to 87 percent by switching to a cashless payment solution. There is enormous potential for arts enterprises to think creatively about implementing NFC terminals at various stages in the customer journey.
Getting Started
As a growing number of devices gain NFC technology, how do arts enterprises design an efficient system that engages wearable technology that the patron already owns (iPhone, smart watch, NFC ring, etc.)? In order for an organization to begin experimenting with the technology, there are three straightforward technical requirements to meet:
Blank NFC Tag: Tags store data. These are affordable ($11.99) and readily available.
NFC-Compatible Device: Modern Android/iOS devices incorporate NFC technology.
NFC Programming Application: These are meant for writing your NFC tags, including uCreate by Identiv, NFC TagWriter by NXP, NFC Tools (app), and Smart NFC.
Key Considerations in UX Design
Performing arts organizations will also need to strategize implementing their NFC tech with a human-centered design approach. Research shows definitive gaps between user perception of NFC and reality of the technology. Among the most important user peceptions that performing arts institutions should address is that most iOS users are only familiar with Apple Pay. Modifying NFC instructions on payment and ticket check-in terminals to one (maybe two) consistent logos is importnat to streamline the user experience and not create confusion.
There are also important NFC usability differences between iOS and Android devices. The NFC chip is located at the top of iPhones, and in the center of Android mobile devices. One way to address this potentially confusing interaction is to use device-shaped physical or digital maps that communicate where the NFC chip lies on each device.
Along with the initial message guiding the user where to put their mobile device, it is also necessary to design an applicable error caption that prompts the user to continuosly move their phone around as part of the scanning process.
The current design for NFC technology is underdeveloped, with no consistent visual language or branding. The few NFC-specific icons do not communicate the breadth of NFC functionality and behavior. These are important perceptions that organizations will need to take into consideration when desigining approachable and NFC operations for their patrons.
When implementing NFCs that will engage with the user's mobile devices or wearable tech it's also important to know the ratio of your patron base that have NFC-enabled devices. Organizations might poll patrons on the compatibility of their mobile devices with NFC tech to get a better idea of the range of usage.
The iPhone has had NFC capabilities since 2014 with the release of the iPhone 6. In-app NFC read capabilities were later introduced in 2017 with iOS 11. Users with an iPhone 7 and newer can read NFC with an app like NFC Tools. iPhone XS, XS Max, and XR, released in 2018, have the ability to read NFC from the home screen without the need of a 3rd party app. As of fall 2019 Apple unlocked the ability for the iPhone 7 and newer to write NFC tags with an associated app. The latest iPhone 11, 11 Pro and 11 Pro Max all support NFC reading without the need for a 3rd party app and the ability to write NFC tags with a 3rd party app.
Android devices were first to the market with NFC support in the early 2000s. Unlike iPhones, Android devices do not require an app to utilize NFC. Instead, reading is enabled from any screen whenever the device is unlocked.
Final Thoughts
NFC technology is an ambitious endaevor for performing arts organizations to implement across the entire user experience. There are assumptions to confront, technical barriers to hurdle, and ethical questions to ask. For instance, do I want to collect patron data through NFCs from my audience, and will they be comfortable with it? There are some applications where the answer will be no. The accessibility of the technology across most mobile and IoT devices, however, emphasizes the potential of NFC tech in the performing arts sphere. By simply buying blank NFC Tags and downloading any NFC programming application, any staff member can begin to play with the technology and understand its applications in their organization's space. The growth of NFC technology in our day-to-day lives demonstrates that institutions must maintain relevancy in our increasingly frictionless, commerce-on-the-go, and interconnected society.
References
This is how IoT will play a big role in the future of art
https://www.identiv.com/community/2021/09/15/getting- started-with-nfc-how-to-develop-new-nfc-enabled-mobile-applications/
https://www.linkedin.com/pulse/wearable-rfid-nfc-technology-customer-considerations-beth-hayes/
https://nfc-forum.org/product-showcase/instant-fundraising-wristbands/
https://medium.com/fuzz/creating-a-universal-useful-design-language-for-nfc-readers-4ae6f98c49b8
https://due.com/blog/wearable-payment-technology/
https://nfc-forum.org/resources/iot-and-nfc-better-together/
How Near-Field Communication (NFC) Works: Benefits of NFC for IoT and the Real-world
https://www.makeuseof.com/how-to-use-apple-airtags-as-nfc- triggers-shortcuts-automation-iphone/
https://www.masstransitmag.com/technology/fare-collection/fare-collection-equipment/article/21232784/a-technology-balancing-act-qr-vs-nfc-for-longterm-smart-ticketing
https://www.fisglobal.com/en/insights/merchant-solutions-worldpay/article/nfc-payment-acceptance-for-smbs
https://www.beaconstac.com/nfc-marketing
https://blog.beaconstac.com/2019/03/5-companies-nailing-it-with-nfc-campaigns/
https://www.mouser.com/pdfdocs/STMicroelectronicsIntroductiontoNFC.pdf
3 Music Festivals That Went Cashless and Never Looked Back
https://www.bluebite.com/nfc
https://apps.apple.com/us/app/nfc-tools/id1252962749