The year is 1870, 7 years before the invention of the phonograph by Thomas Edison. As a musical artist, if you wanted to distribute your content to an audience, you did so through sheet music, either painstakingly copied by hand, or if you were lucky, replicated on some kind of a printing press. Music distribution has come a long way since then. Artists can upload music to platforms like TikTok or YouTube with the click of a button. But how has this changed the industry?
The most prolific way that people engaged with music in 2020 was streaming platforms, of which, Spotify continues to be the most popular. Even though it's easier than ever for artists to upload content to a large audience, the question remains, are personalization algorithms and streaming services through Spotify harming or helping musical artists? Ultimately, the research enclosed concluded that the Spotify algorithm and other personalization algorithms like it help connect artists with more listeners, but just like distribution methods of the past, it does not guarantee musical artists fame, fortune, or even a salary that they can live on.
History of Music Distribution
As mentioned above, music distribution got its start in sheet music. After the Thomas Edison invented the phonograph in 1877, music recording got its start. Standard records as we think of them today gained popularity in the mainstream in the 1920s.
Records maintained their position as the primary means of music distribution until the late 1970s when tapes took over. Walkman portable music players were the first form of portable music, which began a new era in being able to take music with you wherever you go.
In 1991, 'compact discs' (CDs) overtook tapes as the primary means for music distribution. On a more personal note, I can distinctly walking through the isles of Best Buy and Target admiring all of the music albums. Cars had nifty CD holders that fit in the sun visors for easy access when you wanted to play a CD in the car. It was pervasive in many of our musical upbringings… Until it wasn't…
In February of 2018, Best Buy announced that it would phase out all CD sales by July of 2018. This was the direct cause of the rise of streaming. While Napster was the first digital sharing platform, it received a lot of criticism for taking advantage of the music industry and pirating music. As Napster and other sharing platforms fell, Spotify rose to the challenge.
CDs require CD players, records require some kind of record player, and these forms of playing music (while superior in sound quality) are limited (i.e. non-transportable, inability to easily share music, etc). Spotify allows users to freely share music across devices they use on a regular basis (phones / computers), which could help increase artist exposure through social networking. It filled a gap in user desire in 2008 when it was founded, and it has continued to grow since.
In addition to its success in music distribution, Spotify has set itself apart from other music streaming platforms with its algorithm, so much so that features like "the Year in Music Wrapped" playlist has become a part of our culture. Its pervasiveness, personalization, and power are impressive, and it has turned itself into a force to be reckoned with.
Overall, the transition to streaming services is fascinating to follow. The visualization below gives a great picture of the decline of physical means for music distribution since 2001. Streaming took over physical means of distribution as recently as 2017, so a lot still remains to be seen as to the last effects of the transition to streaming.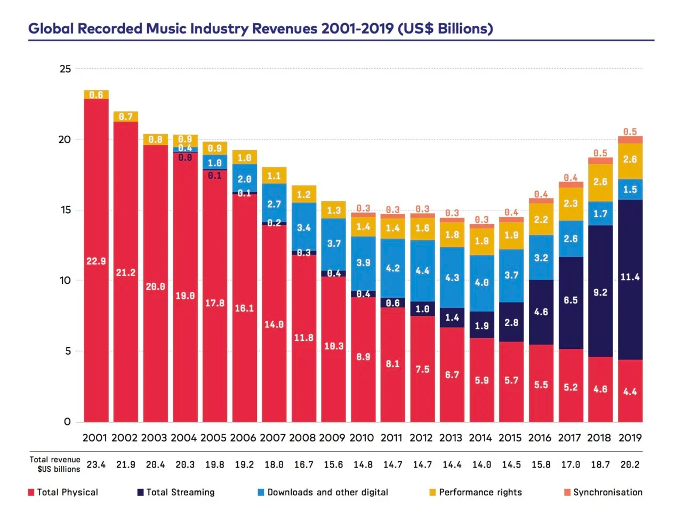 How the Algorithm Works
Spotify's personalization algorithm is called 'Bandits for Recommendations as Treatment,' or BaRT for short. The first thing the algorithm does is it collects A LOT of data on its users: what playlists are created, what songs are skipped, and the physical location of the user (if it can). The algorithm treats a recommendation as "good" if the user spends more than 30 seconds listening, or "bad" if the user skips the song a certain number of times. In order to recommend new songs, the algorithm uses a similarity function to calculate the "distance" between your preferences and the preferences of others. Many algorithms use a distance formula like the Euclidean distance shown below:
Here's a simplified example of how it would work. Let's say Spotify only has four genres of music (country, jazz, folk, and classic rock) and five users as shown below:
Each of the songs that the five users listen to the most are shown in table below:
User5 is a new user, so the algorithm has to determine what songs to recommend. So far, they have listened to mostly songs in the country genre, so the algorithm estimates their position above. Because the distance between user5 and user4 is the smallest, the algorithm is likely to recommend to user5 song9 and song10 (because those are songs that user4 listens to frequently). If user5 skips these songs, it's possible that the "position" of user5 would adjust: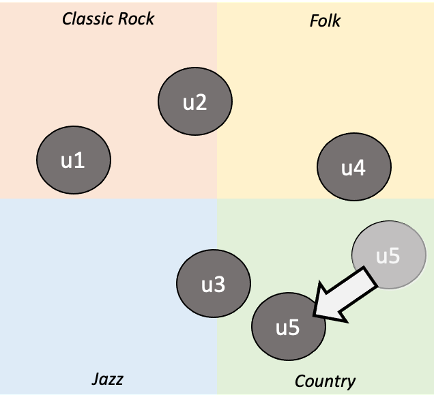 Now user5 is closer to user3, and the algorithm may recommend song6 and song7. The more user5 listens, the more the algorithm is able to estimate user5's position and therefore recommend more and more songs.
How Artists Have to Change Strategy in Today's Industry
There are four main strategies that musicians should consider in today's world of streaming. While all four may not be for everyone, some combination of the four could result in a larger audience reach and higher revenues.
1. Death of the Album, Rise of the Single.
Christoffer Hylander, known as Killigrew in the music world, created a genre of music known as 'chillstep', and he's made a fulltime living on Spotify doing so. On the podcast, "Music, Money, and Life," he had some advice for listeners. His first piece of advice was to focus on singles rather than albums: the way the Spotify algorithm works, new songs are often put on playlists like "Discover Weekly" and "Release Radar" to determine how users will like them. Whole albums are therefore less likely to get promoted. In another podcast, vocal editor Alex Krotz details Spotify's strategy of "boosting" songs. If you opt into Spotify's boosting program as an artist, you will receive less revenue per song, but Spotify is more likely to include your songs on different playlist recommendations for users. Albeit a risky strategy, it focuses on single songs rather than albums. Therefore, for artists looking to use Spotify as their primary means of distribution, rapidly releasing songs (for example, one a week), it more advantageous than releasing an entire album every couple of months.
2. Find your niche.
In this piece of advice, Christoffer and Alex differ. Christoffer believes that part of his success was finding and focusing on a niche portion of the music market. By creating chillstep, he was able to focus on a specific audience and tailor his music to what that audience wanted to hear. Alex points out that because of Spotify's algorithm, it is better to create songs like what people are listening to already to get "picked up" by the algorithm. Looking at the Global Music Report for 2021, the Top 10 Global Songs seem to be of a similar vein: artists like The Weekend, Drake, and Billie Eilish appear multiple times. Ultimately, artists must decide for themselves what risks they are willing to take in terms of their style and targeted audience.
3. Sign with a big distributer or do it yourself.
Another piece of advice from Christoffer is the fact that part of the reason he has been able to make a living is he doesn't have a 'middleman.' Every piece of revenue he gets for streams goes directly into his pocket. This is supported by documentation of the payment per stream: before the artist is paid, the songs' rights holders and distributer are paid. If an artist owns the rights to their own songs, they will obviously receive more money. Therefore, it's a balancing act: there are benefits to distributers outside of Spotify to include structured publicity, but if an artist is focusing solely on Spotify streaming, being your own distributer may be a better strategy.
4. Diversify your music revenue beyond streaming
The reality is, not all artists can strike it big with streaming like Christoffer has, so it's important for artists trying to make a living from their music to diversify their distribution. The diagram below shows where people listened to music in the year 2020. If an artist gets 1 million streams in a year, the average revenue will be around $3,500. If streaming only accounts for a quarter of listening, most artists can expect to make $14,000 for their music. This is obviously an over-simplification, but it demonstrates how difficult it is to make a living off Spotify alone. Even though only 2% of listening is live music, this still presents artists with the greatest opportunity to earn cash flow. An additional consideration for artists in today's world is the rise of virtual concerts. The IFPI Global Music Report details how the pandemic changed the music landscape, and listeners are now more likely to engage in a virtual concert rather than a live one.
The Future of Music Distribution
Ultimately, the future of music distribution is tumultuous. The Spotify algorithm helps to connect artists and listeners, but artists should carefully consider necessary changes in their strategy to survive in today's music landscape. Spotify promises "algorithmic responsibility", so perhaps Spotify is conducting business with its customers in mind. Personalization algorithms will continue to shape the music and entertainment landscape in the future, and artists must continue to adjust their strategies accordingly.
Want to Explore More?
Listen to Christoffer Hylander's (Killigrew) full story on the Music, Money, and Life podcast:
Listen to Alex Krotz on the ANAK Creates Podcast:
Are you a musician who wants more tips on how to get more streams on Spotify? Check out the Best Friends Club blog here!
References
Anderson-Herley, Jacob. (Nov 11, 2021). The History of Music Distribution. Play Virtuoso. Retrieved March 1, 2022 from https://playvirtuoso.com/blog/the-history-of-music-distribution/18
Austin, Mark (February 4, 2018). Best Buy stores will stop selling music CDs, and Target could be next. Digital Trends. Accessed March 1, 2022 from https://www.digitaltrends.com/music/best-buy-to-stop-selling-music-cds/
Balaganur, Sameer. (January 6, 2020). How Spotify's Algorithm Manages to Find Your Inner Groove. Analytics India Magazine. Retrieved February 24, 2022 from https://analyticsindiamag.com/how-spotifys-algorithm-manages-to-find-your-inner-groove/
Bhoot, Gurpreet. (March 2017). Music Industry Sales: How streaming services such as Spotify, Apple Music, and TIDAL affect album sales. California Polytechnic State University. https://digitalcommons.calpoly.edu/cgi/viewcontent.cgi?article=1132&context=joursp
CDs vs. Spotify for Musicians & How You Can Use Both to Improve Sales. Bison Disc. Retrieved February 23, 2022 from https://www.bisondisc.com/cds-vs.-spotify-musicians-can-use-improve-sales
Davison, Aaron (Host). (October 31, 2018). How One Artist Generated 20 Million Streams on Spotify And Makes a Full Time Living from Streaming. In Music, Money, and Life. Spotify. https://open.spotify.com/episode/7gr4xnpI1T5CoLjn7cPix1?si=59a4da17565b476a
Fenny, James. (January 6, 2019). The Pros and Cons of Spotify. Belwood Music. Retrieved February 23, 2022 from https://belwoodmusic.com/2019/01/06/the-pros-and-cons-of-spotify/
"The History of Music Distribution (4 Sept 2020). Mn2S. Retrieved from https://mn2s.com/news/label-services/the-history-of-music-distribution/
International Federation of the Phonographic Industry. (March 2021). Global Music Report. Retrieved February 23, 2022 from https://www.ifpi.org/ifpi-issues-annual-global-music-report-2021/
International Federation of the Phonographic Industry. (March 2021). Engaging with Music. Retrieved February 23, 2022 from https://www.ifpi.org/resources/
Is Spotify Bad for Artists? The Streaming Discussion Revisited. (October 26, 2020). Pick Yourself (Blog). Retrieved February 23, 2022 from https://pickyourself.com/skills-mindset/spotify-streaming-payouts/
Jacob, Ennica. (February 24, 2021). How much does Spotify pay per stream? What you'll earn per song, and how to get paid more for your music. Business Insider. Retrieved February 23, 2022 from https://www.businessinsider.com/how-much-does-spotify-pay-per-stream
Krotz, Alex (Host). (Nov. 2020). Why the new Spotify boosting algorithm feature could be the death of streaming as we know it. ANAK Creates Podcast. Spotify. https://open.spotify.com/episode/4pKcvMYF7gRmPTkoCvyxkd?si=f09e4f781f7d4ff5
Kumar, Ashutosh. (January 29, 2020). Similatrity Functions in Python. Medium. Retrieved from https://ashukumar27.medium.com/similarity-functions-in-python-aa6dfe721035
Pau, Kelly. (December 2, 2021). Spotify Wrapped, unwrapped. Vox. Retrieved February 24, 2022 from https://www.vox.com/culture/22814121/spotify-wrapped-2021-algorithm-data-privacy
"Music Distribution: A History" (Dec 22, 2018). BU Projects. Retrieved March 1, 2022 from http://www.blogs2018.buprojects.uk/joshburgess/music-distribution-history/
Randolph, Eric. (March 19, 2021). Spotify launches site explaining how it pays artists. The Jakarta Post. Retrieved February 23, 2022 from https://www.thejakartapost.com/news/2021/03/19/spotify-launches-site-explaining-how-it-pays-artists-.html
Sustainability Report 2020. (Dec 2020) Spotify. Retrieved February 24, 2022 from https://investors.spotify.com/governance/default.aspx
Vultaggio, Matthew (March 18, 2021). Spotify's Algorithm Playlists: Explained & How to Get On Them. Best Friends Club. Retrieved February 24, 2022 from https://bestfriendsclub.ca/spotifys-algorithm-playlists/
Waniata, Ryan (February 7, 2018). "The Life and Times of the Late, Great CD." Digital Trends. Retrieved March 1, 2022 from https://www.digitaltrends.com/features/the-history-of-the-cds-rise-and-fall/
Wright, LT (February 3, 2022). Why Do So Many Musicians Hate Spotify? Spinditty. Retrieved February 23, 2022 from https://spinditty.com/industry/why-so-many-artists-hate-spotify
Zantal-Wiener, Amanda (Mar 8, 2017). From the Phonograph to Spotify: The History of Streaming Music. HubSpot. Retrieved March 1, 2022 from https://blog.hubspot.com/marketing/history-of-internet-radio