NFT is named the word of 2021, by Collins Dictionary due to its rapid growth. NFT market has raised from 94.9 million in 2020 to 41 billion in 2021. And the use of the term increased 11,000% in 2021. Although the stunning number seems to be a blowing bubble, NFT might have some social value to bring to the table, driving its continuous growth.
What is NFT?
"A unique digital certificate, registered in a blockchain, that is used to record the ownership of an asset such as an artwork or a collectible," —— NFT's definition by Collins Dictionary.
NFT = data + blockchain + smart contract
Data: a piece of digital information going to be turned into NFT asset
It can be a piece of music, a video, an in-game item, an image, a voice message, or even a tweet. The unlimited plasticity on the format itself gives everyone opportunities to turn anything into NFT. But minting into NFT doesn't mean it can sell. The price of the data asset is determined by many other factors, such as its collectability, functionality, scarcity, and more.
Blockchain: a chain of blocks recording data in ways that make the data difficult to change, hack, or cheat
It is achieved by duplicating and distributing one piece of data across over 50% of the chain. If the data on one block was changed, it would be immediately apparent it had been tampered with. If hackers wanted to corrupt a blockchain system, they would have to change every block in the chain, across all of the distributed versions of the chain. 
Smart Contract: the way data is recorded on the blockchain and it is programmable to define NFT's time, organization, number of editions, which blockchain, initial price, transaction methods, previous owners, etc.
There are many proposed smart contracts commanding blockchain to store data differently and the one that successfully tracks distinguishable asset's ownership individually and automatically is called ERC721, created in January 2018. Creator of ERC-721 on Ethereum, a decentralized and open-source blockchain, coined the word NFT to describe the broad universe of distinguishable digital assets. Since then, ERC-721 has had wider use on other blockchain platforms, but Ethereum remains to be the most popular one, where 83% of NFT transactions are happening.
In summary, NFT is about representing anything unique as a digital asset.
The Magic of NFT Profile Picture Art?
Among the earliest NFTs ever made, there emerges a series of profile picture art designed to be used as avatars for social media accounts, such as CryptoPunks, MoonCatResure, and CryptoCats. And it quickly takes over the market to become the one of most popular NFT art collectables types. In the last 7 days, the world's first and largest digital marketplace for crypto collectibles, OpenSea shows that 17 out of the 20 top NFTs ranked by trading volume are profile picture art projects.
One of the mega-successful profile picture art hits is Bored Ape Yacht Club (BAYC), with total sales now standing at $1.03 billion according to data from CryptoSlam. Launched in April 2021 by Yuga Labs with a floor price of 0.8 ETH, BAYC reaches this milestone in just 8 months, comparing the most expensive artwork sold in history is a piece of 500 years old Leonardo da Vinci for 475.4 million in 2017.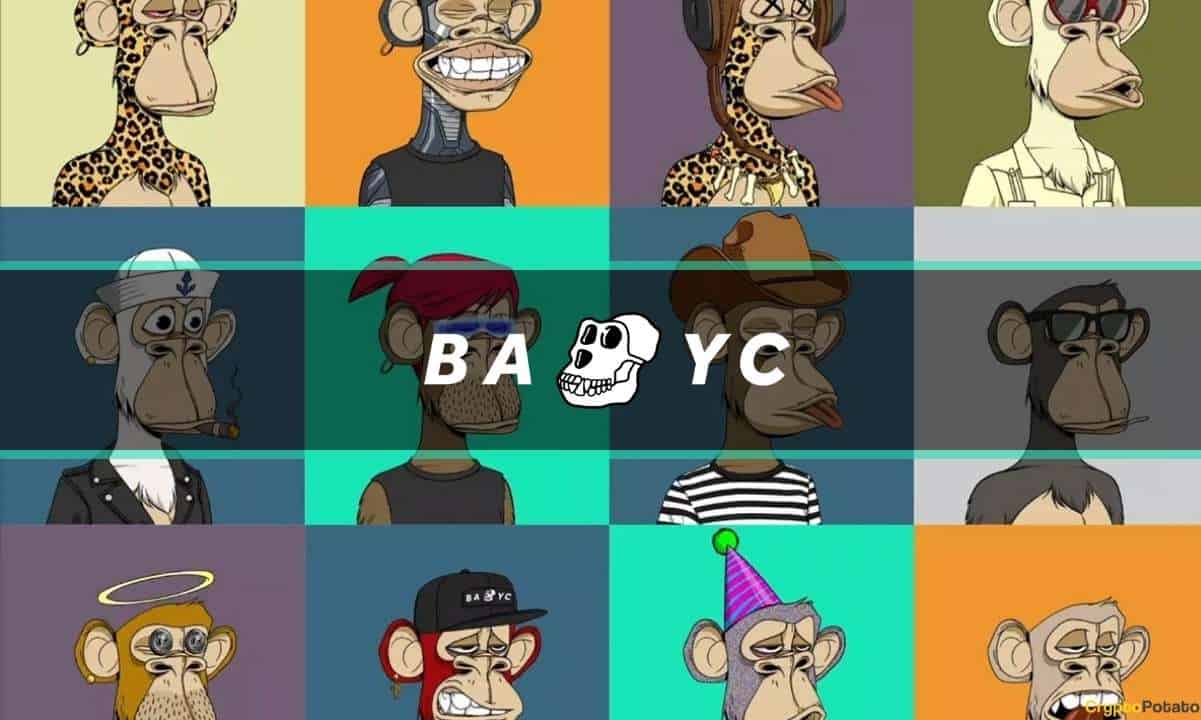 BAYC is a collection of 10,000 unique ape NFTs on Ethereum. Ownership grants access to members-only benefits, the first of which is THE BATHROOM, a collaborative graffiti board. Currently, the average sale price for BAYC is over $200,000 and has exploded into other corners of the world, from Rolling Stone magazine covers to physical art galleries globally.
What makes profile picture art projects different from most other NFTs? On the creative side, unlike many other one-off digital artworks, profile picture art initiatives usually are a series of thousands, each one in the collection with unique rarity and features. Because of the way NFTs are generated, it is the potential to gather a relatively larger group of local buyers. On the distribution side, the collection of profile picture art usually is airdropped randomly at a very low price, or even for free, to collectors. It is not only accessible but also comes with a thrill of gambling.
But most importantly is the social value of profile picture art making them better performing than other NFT artworks. Member club model is exclusive to BAYC, but shared among many other profile picture art projects. According to the experience shared by owners of ape avatars, the top three drivers includes:
We love the look, it matches our digital personality

We are rich enough to buy such high valued asset, we are golden

We are true believers of NFTs, we are in the same community
On the practical side, profile picture art are one the most functional kinds of digital assets in the markets now. While owner of the most expensive NFT artwork ever the Everyday: The First 5000 Days can hardly show his treasure to the world, profile picture art can be used as avatars across all social media platforms, from Facebook, Instagram, Twitter, even WeChat, where people can use to establish their identity. Questmobile data shows young people, especially Gen Z, on average, spend half of their time in the digital world and they care about their virtual identities. Claiming profile picture art equals telling the rest of the world who they are, helping them find their own kind and make friends.
Other than its usability as a social media personality statement, most profile picture art projects allow collectors to spark their own creativity, by giving the full commercial rights to the NFT, and building their own community within the group on messaging channels like Discord. The popularity of profile picture art projects indicates the germination of such social value.
Who are the collectors?
Although blockchain technology is designed to ensure privacy and anonymity of creator and collector information, the identity of some big NFT influencers is revealed in the media. NFT has become a global dream and the demand for highly valued profile picture art apes is increasing day by day.
Top 30 Influential People
Last December, ARTNET released an annual report, THE ARTNET NFT 30, giving a summary of the 30 most influential people who are shaping the field of NFTs. This group of new content creators, manipulators, and collectors shares a common background in crossing the field of technology and creativity before getting into NFTs. 50% of the NFT artists were hackers and others are illustrators and animators. And ⅓ are self-taught.
Geographically, this group of influencers spreads from Nigeria, Sri Lanka, Canada, US, Singapore, China, and all over the world. Statistics from Finder shows that 32% Philippines own NFT (thanks to a Philippines Play-to-Earn NFT Game Axie Infinity), 27% of Thailands, 24% of Malaysians, 23% of UAE, and 17% of Vietnam.
Celebrity and Influencer
Besides the contribution of hardcore hackers, NFT walks into the public by celebrities effect. From singers like Justin Bieber and Eminem, NBA stars like Stephen Curry and Shaquille O'Neal, to other celebrities like Jimmy Fallon and Paris Hilton, all of them bragging about their millions dollar profile picture art triggers public's curiosity.
In January, Twitter introduced a feature that allows users to use NFT as their profile pictures. "The NFT conversation on Twitter is thriving with 255.6 million tweets globally and continues to rapidly grow. Authenticity around NFT ownership is important to the crypto community and with the profile picture art, we are providing a way for people to prove ownership of their NFTs and support those making this art," Twitter said in the announcement. It is foreseeable that this function will make the identity of community members more transparent.
NFT = Rich People's Game?
Skyrocketed NFTs surely cuts off some investors.
News about stunning high valued profile picture art projects give an impression of all NFTs are high-priced and it's a game for the rich only. Is it true? Of course not. Among the thousands of profile picture art projects, BYAC is the only one with sales over 1 billion. 95% has a floor price of around 0.02ETH (around $50 or less).
Speculators
Market analysis by Chainalysis, a crypto-focus analysis platform, reveals that there are much fewer players in NFTs than previously thought. With the market size approaching 41 billion, there are only 800,000 unique buyers. Some of the most active NFT traders are speculators. Many of them constantly seek newly released profile picture art to buy low and sell high. Many of them are speculators in wish to drive up prices to pay rent. So in many cases, the fundamental value behind profile picture art as collectibles is neglected.
Companies
Another type of player in the market is companies, adapting NFT as part of their media strategy. Besides launching their own NFT projects like Nike and LV, other companies, like Timberland and Adidas, purchase profile picture art projects to convey the message of "speaking the same language" as their target audience. Companies are seeking a deeper relationship with consumers to establish brand trustability. For instance, limited editions are utilized widely to build a sense of brand uniqueness. However, before the NFT model, companies can hardly make a direct connection to the secondary market or community beyond marketing and transactions. This is where NFT steps in. Former Chief Digital Officer at LVMH recognized the value of NFT as a bridge between real consumers and brands to accumulate first-hand real consumer information and extend brand influence to younger generations.
When everyone sees chance to win, game goes on
Thanks to the open-ended nature of NFT asset types, there remain many undiscovered business models to be explored and value touchpoints to be built. NFT art intersecting movies, music, real estate, gamification, blockchain, entertainment, and metaverse keeps pushing the limit of imagination. Besides technology advancement, how to deepen and broaden the scope of NFT applications depends heavily on the fundamental social value it brings. Who can resist living a happy and prosperous life?
Source of References
The Crypto Times. "15 Celebrities Who Own BAYC NFTs," February 2, 2022. https://www.cryptotimes.io/15-celebrities-who-own-bored-ape-yacht-club-nfts/.
Castrovilli, Marco. "Why the World's Largest Museum Is Embracing NFT Technology." Cointelegraph, December 10, 2021. https://cointelegraph.com/news/why-the-world-s-largest-museum-is-embracing-nft-technology.
Chanthadavong, Aimee. "Twitter Blue Introduces NFT Profile Pictures for Subscribed IOS Users." ZDNet, January 21, 2022. https://www.zdnet.com/article/twitter-blue-introduces-nft-profile-pictures-for-subscribed-ios-users/.
Eluemuno, Christopher. "Top 5 NBA Players Who Have Invested in the Bored Ape Yacht Club NFTs." Sportskeeda, December 28, 2021. https://www.sportskeeda.com/basketball/news-top-5-nba-players-invested-bored-ape-yacht-club-nfts-steph-curry-shaquille-o-neal-lamelo.
Khomami, Nadia. "British Museum Enters World of NFTs with Digital Hokusai Postcards." The Guardian, September 24, 2021. https://www.theguardian.com/technology/2021/sep/24/british-museum-nfts-digital-hokusai-postcards-lacollection.
Kim, Christine. "Artist Ai Weiwei Uses Ethereum to Make Art About 'Value.'" CoinDesk, August 17, 2018. https://www.coindesk.com/markets/2018/08/17/artist-ai-weiwei-uses-ethereum-to-make-art-about-value/.
McDowell, Maghan. "The Blockchain Playbook: From LVMH's Aura to Arianee." Vogue Business, April 26, 2021. https://www.voguebusiness.com/technology/the-blockchain-playbook-from-lvmhs-aura-to-arianee.
Melinek, Jacquelyn. "Aligned Raises $34M To Grow DeFi and Web3 Infrastructure." Blockworks, February 24, 2022. https://blockworks.co/aligned-raises-34m-to-grow-defi-and-web3-infrastructure/.
Network, Artnet Gallery. "5 Questions for Sydney Xiong, Director of the Art-Meets-Finance Foundation APENFT." Artnet News, January 12, 2022. https://news.artnet.com/buyers-guide/5-questions-sydney-xiong-director-art-meets-finance-foundation-apenft-2059190.
NFT, Artnet. "The Artnet NFT 30 Report: Meet the Artists, Innovators, and Collectors Who Built Our New Crypto-Art Era (Part Three)." Artnet News, December 16, 2021. https://news.artnet.com/market/the-artnet-nft-30-report-part-three-2047797.
Roose, Kevin. "I Joined a Penguin NFT Club. Here's What Happened." The New York Times, August 12, 2021. https://www.nytimes.com/2021/08/12/technology/penguin-nft-club.html.
Smith, Oliver. "Kevin Abosch: The Artist Who Became A Bitcoin." Forbes, June 27, 2018. https://www.forbes.com/sites/oliversmith/2018/06/27/kevin-abosch-the-artist-who-became-a-bitcoin/?sh=25e7f47647b4.
Symphony, California. "Audience Development: The Long Haul Model – California Symphony." Medium, August 15, 2017. https://medium.com/@CASymphony/audience-development-the-long-haul-model-b63842da1399.
The Art Newspaper's XR Panel. "What Is the Metaverse and Why Does It Matter to the Art World? Experts Weigh in and Predict Its Future Impact." The Art Newspaper – International Art News and Events, January 28, 2022. https://www.theartnewspaper.com/2022/01/28/what-is-the-metaverse-and-why-does-it-matter-to-the-art-world-experts-weigh-in-and-predict-its-future-impact.
The Audience Agency. "Digital Engagement with Culture | Exploring the Act Two Survey." Indigo, September 2020. https://www.theaudienceagency.org/asset/2347.
Vick, Aaron. "How NFTs Are Creating Social Value." Forbes, February 24, 2022. https://www.forbes.com/sites/forbestechcouncil/2022/02/24/how-nfts-are-creating-social-value/?sh=1c5f35cf7ecb.
Webb, Bella. "Inside the Secretive World of Luxury Authentication." Vogue Business, January 31, 2022. https://www.voguebusiness.com/sustainability/inside-the-secretive-world-of-luxury-authentication-vestiaire-collective-the-realreal-ebay-stockx-goat.