The art industry has already accepted and applied Virtual Reality (VR) in their daily life!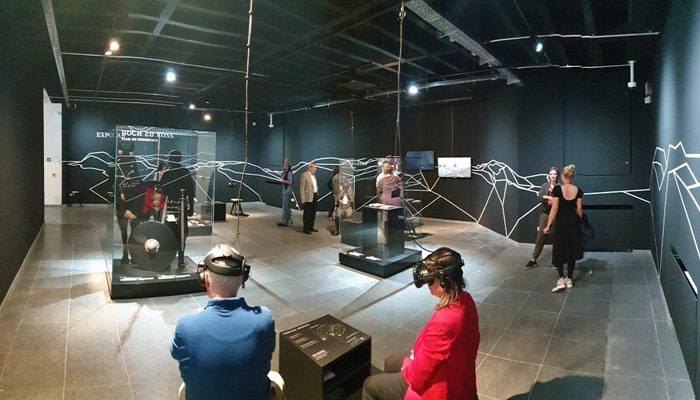 VR conception and comparison with AR, MR, XR
Virtual Reality (VR) is a kind of immersive experience which also called computer-simulated reality. It refers to computer technology that uses realistic headsets to produce realistic sounds, images, and other sensations to replicate real environments or create imaginary worlds. Users will immerse themselves in a fully virtual world while using VR. VR will make you feel like you are there. You turn your head and the world turns with you, so the illusion created by whatever world you're in will never go away. And nowadays, VR is widely used in 21 industries such as the automotive industry, healthcare, tourism, education, art, design, etc.
However, some people will have confused about VR with AR, MR, and XR. As for AR, which is the alive, direct, or indirect view of a physical, real-world environment whose elements are augmented (or supplemented) by computer-generated sensory input such as sound, video, graphics, or GPS data. Compared with VR, AR is existed based on people's real-life and allows people to use a mobile device, headset to put reality in the digital world. For MR, the mixed reality, this is easy to understand, combines reality with the virtual world. Specifically, MR allows digital objects to exist in the real world and people could have some interaction with them. The key characteristic of MR is that the synthetic content and the real-world content are able to react to each other in real time. Extended Reality (XR) is a new term added to the technical vocabulary dictionary which is known by few people. Extended reality refers to all real and virtual combined environments and human-computer interactions produced by computer technology and wearable devices. Extended reality includes all its description forms such as Augmented Reality (AR), Virtual Reality (VR), Mixed Reality (MR). And in this article, VR will be mainly discussed.
VR Market Size
From the report of worldwide consumer virtual reality hardware market size, worldwide people show increasing interest in VR. The number of global virtual reality device shipments was 13.48 million units in 2020, and it is expected to reach a volume of 112.62 million units by 2026, registering a CAGR of 33.85% over the forecast period (2021–2026) and the COVID-19 crisis impacted several VR techs companies.
According to the geography, we could separate the VR market into 5 areas: North America, Asia Pacific, Europe, Latin America, and the Middle East, and Africa. The growing fast market is the Asia Pacific, and the largest market in North America.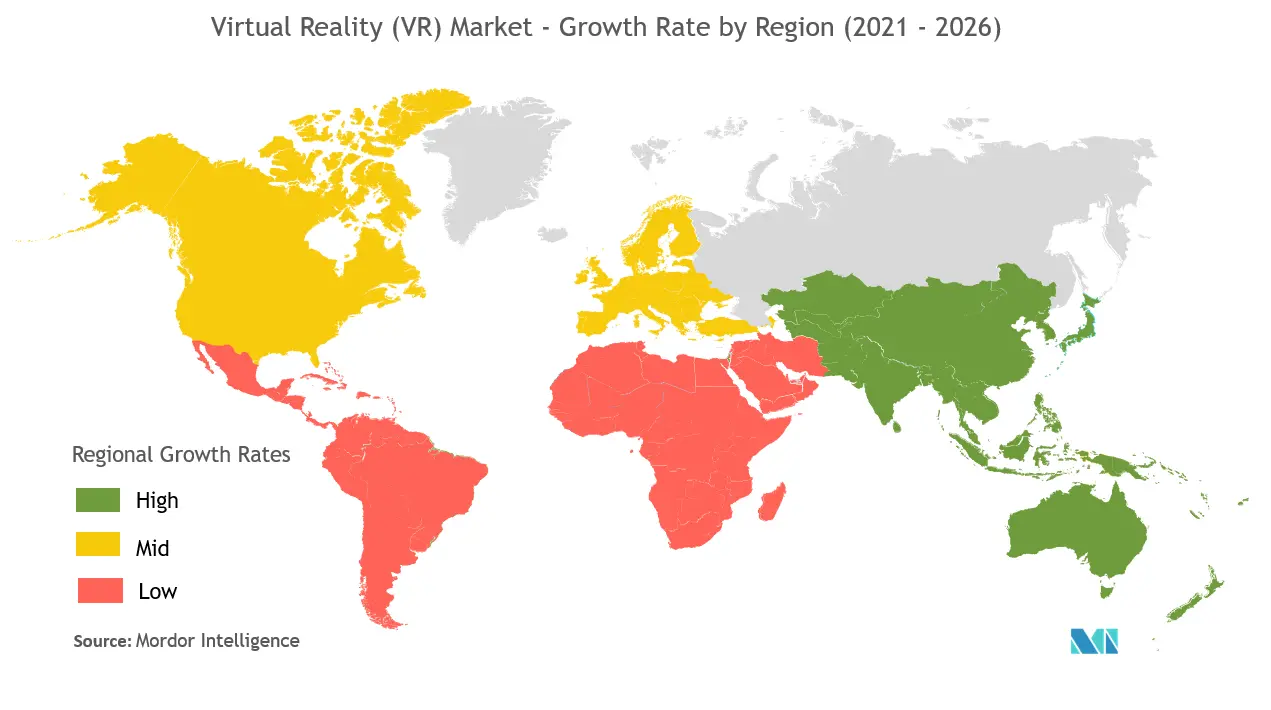 VR Headset
VR headsets enable people to fully immerse themselves in 3D places.VR Headset can classify into three types:
Tethered VR Headsets mean that the headset is physically connected to a computer by cables, such as HDMI and/or USB. Tethered virtual reality headsets are currently much more immersive than other types of VR due to the high-quality experience they can deliver. These premium VR headsets require a certain amount of setup space as well as a constant cable connection to a powerful gaming PC (generally a very expensive acquisition).
Standalone VR Headsets (all-in-one HMDs). This category of headsets requires the least external interaction, charging the battery and perhaps creating an account to access certain VR platforms, standalone VR headsets don't need anything else from the user.
Smartphone VR Headsets. Using smartphones to provide a virtual reality experience. Users must simply slide their smartphones into the headset.
The price of VR headsets range from 1000 dollars to at lowest 20 dollars. People could buy the cheapest Headset firstly to decide if they want to invest more in VR advanced equipment.
---
VR in Museum
With the development of VR, museums apply VR in their exhibitions. VR allows museums to provide visitors with a better immersive experience, bringing collections to life. VR allows visitors to immerse themselves in a vivid virtual world, better experience the real scene where the collection is located, and help curators to better tell the story of the collection.
Museums give the public more opportunities to contact different cultures, and VR allows people to explore cultures from afar. For example, for people with some mobility impairments, going to a museum is out of reach. But now, VR gives those people with limited mobility or travel restrictions in the COVID-19 environment a new option to use VR software to visit museums on platforms like Quest.
VR allows people to plan and arrange a day's exhibition at their own pace, without worrying that a long-term appreciation of details will affect subsequent visitors. And VR content can be archived forever, allowing the public to view it repeatedly.
VR also gives people the opportunity to see exhibits up close, such as the Mona Lisa at the Louvre. This painting has been famous for a long time. Every year, a large number of tourists go to the Louvre to watch it. Because of the crowd, people can only watch it from a distance and take pictures alive, but VR has given people all over the world the opportunity to see this painting. We can use it on the app without going to the Louvre. view this work.
VR also allows museums to reach more untapped consumer groups, and to stimulate their interest through VR to obtain sponsorships. Several museums have their apps like Hermitage, which offers exhibits on Ancient Rome for $2.99 on their app.
Many museums applied VR in their exhibitions.
The National Museum of Finland in Helsinki opened a new VR exhibit in 2018. Visitors can head back in time to the year 1863, as they explore R. W. Ekman's painting The Opening of the Diet 1863 by Alexander II. The VR headset allows people to feel as if they are stepping inside the painting. Visitors find themselves within the scene and can look around at the Hall of Mirrors from a 3D perspective. They can even speak with the Russian Emperor and other characters depicted in the painting. It is part of an exhibit detailing Finnish life and politics in the 1860s, under the Russian Empire.
In 2018, the Natural History Museum partnered with broadcaster Sky to develop Hold the World, an educational VR experience that puts you face to face with Sir David Attenborough. This groundbreaking experience allows people to visit parts of London's museums from the comfort of their own homes. Sir David was shot with over 100 cameras at Microsoft's Mixed Reality Capture Studio in Redmond (similar studios exist in London and San Francisco) to recreate it as Sky's Hold the Conceived and Produced in London Hologram of the World Experience – Based on content studio Factory 42, a VR application for Sky. These lenses were combined with photogrammetry — overlapping photographs — to reconstruct the natural history museum. The museum's CT scanning department then worked with museum scientists and animation teams to create accurate models and animations of animals such as blue whales, stegosaurs, trilobites, dragonflies, butterflies, and pterosaurs. With Hold the world, Sir David will guide you on a tour of the Natural History Museum, introducing you to the different exhibits, and you will also get a close-up look at the exhibits.
In addition to VR, the museum also uses AR technology. Virtual Reality offers total immersion in a different reality. However, AR shows the reality and an altered version side by side. VR replaces what the user sees with an alternate reality. AR adds to what the user can already see. This means it can be useful for annotating scenes and providing extra information. It is also used to put scenes into context and highlight contrasts with the current reality. VR requires specialist technology, such as headsets, controllers, and sensors. AR experiences only need a smartphone or tablet and are downloadable as apps.
In 2021, The National Gallery in London looked to take the collections of the National Gallery, National Portrait Gallery, Royal Academy of Arts beyond the walls of the museum with an Augmented reality experience that members of the public could access through their phones. Users used an app to activate the artworks which were marked with QR codes on busy streets in central London.
Challenges using VR in museum
Budget
Cost is the biggest challenge for museums using VR technology. First of all, designing and managing VR programs requires a sufficient budget because they are very expensive. Secondly, the museum needs to provide visitors with a VR Headset, which will also be a lot of overhead. And due to the daily flow of people, the wear and tear of the VR Headset will be very large.
Sanitation
Sanitation is another issue that needs to be faced when using VR headsets. The same VR Headset may be used by many people in one day, and the oil secreted by hair and skin may accumulate on the Headset. And in the Covid-19 environment, how to disinfect and clean the VR Headset is also a problem.
Motion Sickness
Although VR means innovation for some people, some people cannot adapt to the physiological reactions that occur during VR, such as nausea, cold sweat, dizziness, fatigue, etc.
AR Competitor
Compared with AR, VR provides a more immersive experience to the audience, but the overall cost of VR will be much higher than AR. And AR is more accessible, and people just need to download some software to experience it. But VR requires specialized equipment.
Conclusion
It has become a trend for people to invest in virtual reality, and more and more museums are also adopting VR to expand their audience and provide visitors with a better immersive viewing experience. Although the use of VR in museums requires a large budget and solves the problems of sanitation and damage of equipment, the immersive viewing experience that VR can provide is worth it.
---
Reference
41, North of. "What Really Is the Difference between AR / MR / VR / XR ?" Medium. Medium, March 20, 2018. https://medium.com/@northof41/what-really-is-the-difference-between-ar-mr-vr-xr-35bed1da1a4e.
"5 Benefits of Virtual Reality for Museums." Radical VR, October 19, 2016. https://www.radicalvr.ca/5-benefits-virtual-reality-museums/.
"7 Ways VR Is Changing the Museum Landscape." MuseumNext, April 19, 2021. https://www.museumnext.com/article/7-ways-vr-is-changing-the-museum-landscape/.
"David Attenborough Is Giving behind-the-Scenes Tours of Natural History Museum." Microsoft News Centre UK, March 23, 2018. https://news.microsoft.com/en-gb/2018/03/23/sir-david-attenborough-is-giving-behind-the-scenes-tours-of-the-natural-history-museum-as-a-hologram/.
"How Museums Are Using Augmented Reality." MuseumNext, January 20, 2022. https://www.museumnext.com/article/how-museums-are-using-augmented-reality/.
Koo, Jacob. "AR and VR Could Be Educational – and Profitable – Tools for Museums." VentureBeat. VentureBeat, December 15, 2017. https://venturebeat.com/2017/12/14/av-vr-educational-profitable-museums-moca/.
Pickard, James. "The Cheapest VR Headset Deals in March 2022." TechRadar. TechRadar, February 3, 2022. https://www.techradar.com/deals/best-cheap-vr-headset-deals-prices-sales.
Pocket-lint. "What Is Vr? Virtual Reality Explained." Pocket, May 10, 2021. https://www.pocket-lint.com/ar-vr/news/136540-what-is-vr-virtual-reality-explained.
Thompson, Sophie. "VR Applications: 23 Industries Using Virtual Reality." VirtualSpeech. VirtualSpeech, March 1, 2022. https://virtualspeech.com/blog/vr-applications.
"Types of VR Headsets – PC VR, Standalone VR, and Smartphone VR." Aniwaa. Accessed March 4, 2022. https://www.aniwaa.com/guide/vr-ar/types-of-vr-headsets/.
"Virtual Reality Is a Big Trend in Museums, but What Are the Best Examples of Museums Using VR?" MuseumNext, January 20, 2022. https://www.museumnext.com/article/how-museums-are-using-virtual-reality/.
"Virtual Reality Market (2022 – 27): Size, Share, Trends." Virtual Reality Market (2022 – 27) | Size, Share, Trends. Accessed March 4, 2022. https://www.mordorintelligence.com/industry-reports/virtual-reality-market.
Whelan, Corey. "VR Motion Sickness: Treatments and Prevention." Healthline. Healthline Media, June 1, 2021. https://www.healthline.com/health/vr-motion-sickness.