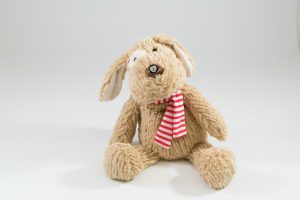 Heartbeat Pup is a soft good built for overly anxious children. It takes in the pulse of its human companion and creates a mirror heartbeat effect through a physical simulation inside the stuffed animal. So, the bear mirrors the heartbeat of its companion child. If the heartbeat is detected to be over a resting heart rate, the animal's own heartbeat will gradually lower until itself and the child's heart rate is resting.
The bear becomes a grounding mechanism used to manage anxiety by creating a movement or feeling to anchor its companions awareness back to the environment.
—
How it works:
The child's pulse is sensed through the pulse sensor in the Pup's nose. Based on the readings, the Pup's heartbeat (created through the movement of a  speaker's cone as electricity runs through it) will either operate at a gradually lowering rate, or will mirror the child's heartbeat.
Reflection:
This was a project I'd been thinking about quite a few months. Overall, I'm very happy with the execution, and craft of both the program (coming from a beginner level) and the design. The biggest issue I faced was how to clean and process the values from the sensor to get what I wanted. I was luckily able to find well-documented resources at https://pulsesensor.com/ that worked through the signal processing in an interrupt file that I needed (linked in the program as well).
all files, documentation, and process:
https://cmu.box.com/s/shsr8rlt0hj0uhea9fjsoifbz157zg50