State Machine: Bar Patrons
Problem: In undergrad, my friend sent me a picture of myself from a night out the week before. I was in the middle of a crowded bar, looking for what could have been a beer, the people I came with, or my own sanity. The caption could have been "an island that cannot hear in an ocean that cannot see." 
Bars are perfect examples of places where design needs to realize that IQs and senses diminish rapidly, in addition to inhibitions. While people usually go to bars in groups, those groups quickly dissipate as people go the dance floor, the bathroom, to find other friends present and more. Combine that with usually spotty reception and barely enough room to operate your phone in the sea of bodies, communication is tough; communication about the health and safety of your friends is even tougher. Even if by some miracle you find your friends to check on them, can you really believe them if they've said they've only done one shot, but look like they are ready to fall over? Your sense of perception is off and the resulting communication is therefore unreliable. 
Is there a way to represent your and others' state-of-being at a bar at a glance? Can that system or product be smart and take advantage of certain pieces of data to give the most accurate diagnosis?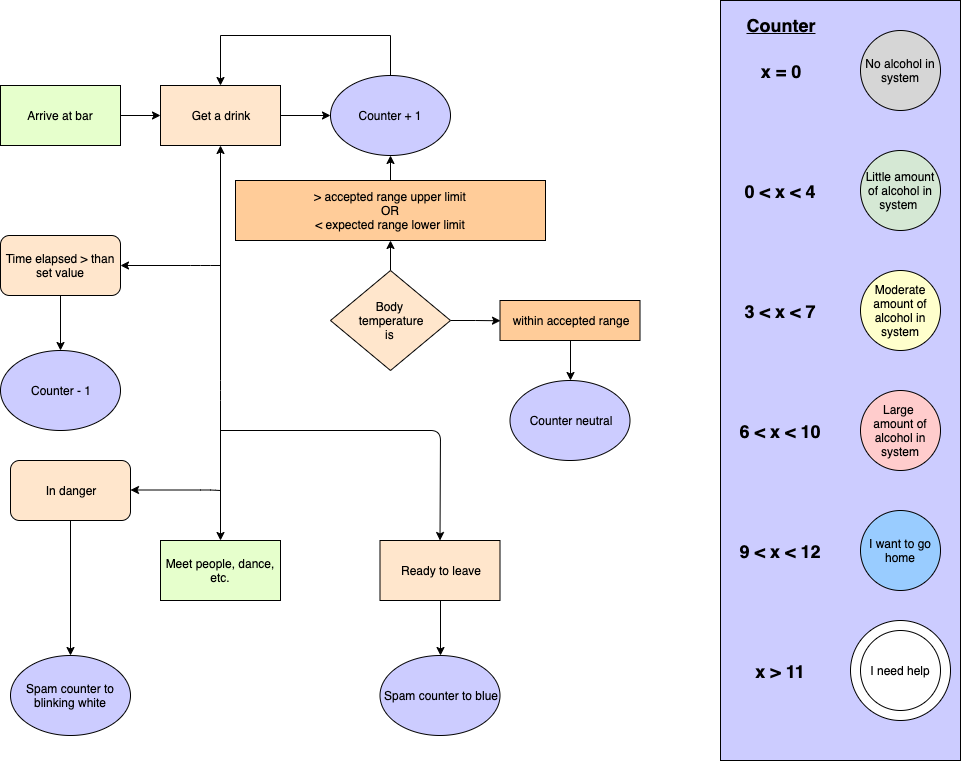 General solution: A sensor and LED-outfitted bracelet that takes pieces of environmental and user-entered data to determine how intoxicated you or your accompanying friends are. Using a color-coded system, you can easily recognize who is doing well, who needs your help, and who is ready to go home without pulling out your phone or searching around.
Proof of Concept: My system utilized the following components:
2 RGB LEDs (and resistors) – both on your bracelet; one to represent your intoxication level, another to represent your friend's

2 push buttons (and resistors) – one on your bracelet to allow you to signify another drink (+1 press), you want to go home (press until light is blue, you are in danger (spam press until white flashing); another to be used for a demo to signify your friend changing their state

2 analog temperature sensors – one inside your bracelet to record your body temperature; one used for the demo to signify your friend's

p5.Js – monitoring for those who do not have a bracelet
Following research from different sources, I wanted to apply various environmental factors that affect someone's level of intoxication or their perception of it. One study cited body temperature as one such factor; if someone is drinking somewhere where it is very hot or very cold, alcohol typically masks your internal temperature such that you could be drinking yourself into sickness without knowing it. Because of that, I wrote the code in such a way that if your body temperature leaves a certain range, then your intoxication/danger levels rises faster than it would otherwise. Other studies show that a simple passage of time allows some people's intoxication levels to drop naturally; therefore, there are caveats in my code that say if a certain amount of time has passed between drinks, your intoxication level actually goes down.
Challenges: Trusting people as they drink. The whole system is predicated on people being honest about when they have another drink, which I'll admit, could potentially be a bit of a stretch to expect out of people. There are also lots of other factors that go into determining a person's intoxication level – type of alcohol, food consumed, water consumed, weight, gender, etc. – that cannot be tracked with sensors in a bracelet.
Opportunities: With further development, this would probably be best served to be paired with an app interface that allows people to build their own profile to be linked to their bracelet. You could enter more of your own data (like weight, gender, location, etc.) that would affect the aforementioned "ranges" for things like body temperature. The app would also allow you to track your habits over time and, with the advent of more robust machine learning techniques, your app/bracelet could help you stay safer or smarter while you're out by altering when your color codes change based on your tolerance or suggesting you call an Uber at a certain time in the night. Also, I attempted to add in a p5.js component that could eventually evolve into a more sophisticated app that allows friends back in the dorm or at home to know what is going on – whether you are on your way home, whether they should have a Gatorade ready for your return, or more depending on your state. 
Assignment5 Files (Fritzing, Arduino, p5.js)