LifeObject: Israeli Pavilion Biennale Venezia 2016.
LifeObject was an installation inside the Israel Pavilion in Italy as part of the La Biennale di Venezia of 2016. The project was curated by the architect Ben Bauer. One of the other architects who contributed to the project, Arielle Blonder discusses this installation in press interviews and emphasizes its correlation to nature and society.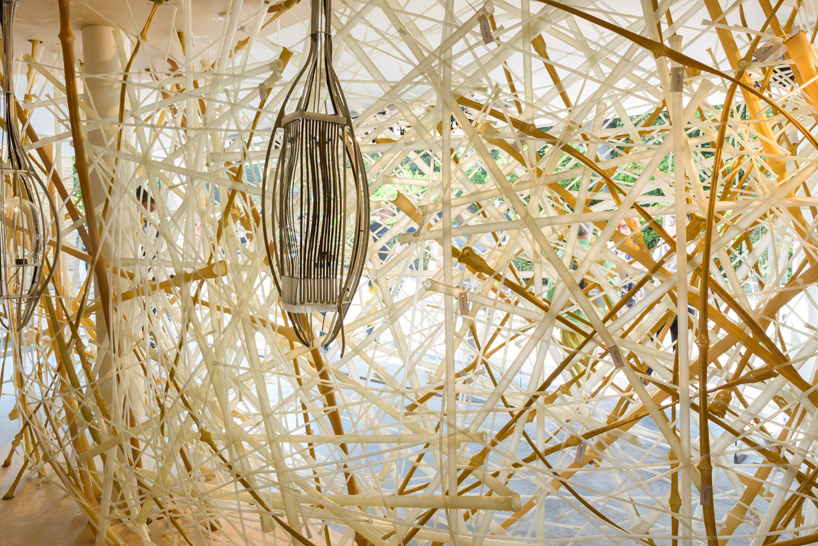 LifeObject, in a way represents a more secure society that is comprised of adaptable, flexible components, as does a bird's nest. I find this installation interesting because of its attempt to integrate biology to architecture. Architecture ultimately is about living and the inhabitants, including but not limited to people and animals. The fact that the scientists and architects came together and mimicked a bird's nest to build for people is intriguing and points to many more opportunities in the field.
I agree with Yugyeong that the project opens up more opportunities pertaining to biological designs and materials. To add, I would say that this project provides grounds to explore with 3D printing and computational design because there is a basic algorithm that we can extract from natural behaviors. I would also say that this project not only adds to the architectural field, but to the science field as well. LifeObject basically breaks the boundaries between the two disciplines.
For Designboom's coverage of the project, visit:
israeli pavilion showcases woven bird's nest structure at venice architecture biennale
For original looking outwards post:looking-outwards-03-yugyeong-lee